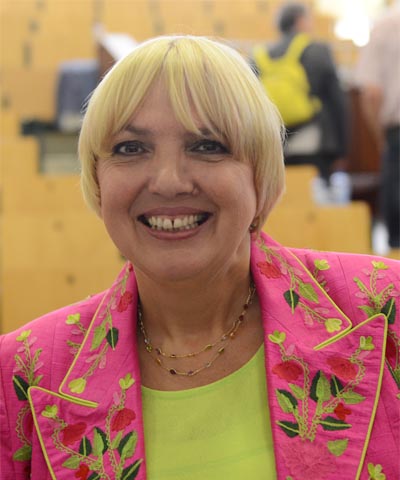 By Claudia Roth
BRUSSELS, Belgium, 11 September 2016
Ladies and gentlemen, dear Tibetans, and dear friends of the Tibetan people!
A few days ago, I saw a satellite picture of Tibet in a German newspaper. It was an alarming picture, I must say.
It showed numerous newly-formed lakes in the Tibetan highlands, that had recently come into existence due to melting glaciers and progressing climate change.
I immediately thought of my meetings with the Dalai Lama and Dr Lobsang Sangay in March of last year, in Dharamshala.
Already then, Dr Sangay, who offered me such a warm welcome, warned that, on top of the cultural oppression against the Tibetan people, the Chinese environmental policy was among the most threatening problems that Tibet has to deal with in these days.
Deforestation, extensive agriculture, the construction of dozens of dams with totally unpredictable consequences for the environment and the people, the pollution of water reserves as a result of massive mining projects: the list of challenges faced by Tibet is long.
Therefore, please feel assured that my party, that the Greens in Germany, and that so many more people in Europe stand at the side of Tibet, both when it comes to fighting climate change, but of course first and foremost, with all our heart and compassion, in support of what is now 57 years of non-violent resistance,
57 years of strength, commitment and courage;
57 years of immense patience;
and 57 years of being a voice of hope, peace and understanding throughout the world.
It is difficult to grasp the amount of suffering and oppression that Tibet has lived through.
The latest developments, as you all know, are no exception to this sad rule.
Only a few days ago, two more Buddhist nuns living at Larung Gar, the largest Tibetan Buddhist monastery, killed themselves, following another suicide in July, to protest the current destruction of large parts of this study centre.
According to local sources, there has been almost no consultation with residents about the demolition, and no opportunity whatsoever for residents to challenge the decision.
Indeed, the destruction of Larung Gar, and all the suffering that comes with it, shines a light on the kind of horrors that the Tibetan people have had to endure since the Uprising in 1959.
80,000 Tibetans lost their lives during that Uprising alone!
But we all know that the tragedy of Tibet began earlier. When Tibet was invaded by the Chinese People's Liberation Army in 1949, the world paid no attention. There were many reasons for this:
post-war Europe was still in chaos;
the Cold War had just begun;
and the former colonies in Asia were engaged in their struggle for independence.
It was only with the Uprising and the events in Lhasa in March 1959, hat the world started to take notice of the Tibetan people.
Today, the message sent by the Uprising, the desire for freedom and self-determination, as well as its continued commemoration and remembrance, represent important sources of hope and strength, sources of energy that are so crucial for the Tibetan people, 57 years after the Dalai Lama was forced into exile.
Still, I am worried that the Tibetan people's struggle, which has justice on its side, might be forgotten by the world community.
This is why gatherings like this, the 7th International Tibet Support Groups Conference, are so paramount to the fight for justice, and a symbol against silence and indifference.
The author and Nobel Prize Laureate Elie Wiesel once said: "To forget the victims is to kill them a second time."
Therefore, thank you for all the work you do, and thank you for keeping alive the memory of what happened, and what continues to happen to Tibet.
In times when 65 million people are forced to leave their home, either to flee within their country, or to cross borders into an uncertain future, remembering what Tibet has had to endure includes thinking about the countless Tibetans who had to flee after the Uprising, and the many more people who are still obliged to leave their country.
Around 200,000 Tibetans live in exile; too many people have been uprooted, and too much has been lost.
Moreover, for far too long, the Tibetans in exile were regarded as nothing more than representatives of a reactionary feudal clique, n line with an anti-democratic ideology promoted for decades by the Chinese authorities.
Since then, however, also thanks to the work done by you and all the Tibet support groups that have gathered here in Brussels, the image of Tibetans in the world has changed.
Today, Tibetans are recognised as victims of what can only be described as reckless power politics.
The Tibetans' non-violent struggle has turned into a symbol of peace.
Therefore and for many other reasons, I would like to take this opportunity to express my most profound respect and gratitude to Tenzin Gyatso, the 14th Dalai Lama.
At a time of so many wars, at a time of so many dreadful crises, the Tibetans and, indeed, the international community have gained a figurehead in Tenzin Gyatso who, throughout the world, has come to symbolise:
building bridges instead of widening divisions,
walking peaceful paths instead of intensifying conflicts,
and focusing on freedom in the future, instead of bitterness about the past.
The Dalai Lama is a true ambassador of a world without violence and oppression, without hatred and exclusion. These are the principles that guide his life and his struggle.
He is:
a spiritual power;
the embodiment of endless compassion, kindness and love;
who never fails to bring sunshine into our hearts;
even when dark clouds are gathering overhead;
and who dries our tears of despair with his honest smile of hope.
Hope for a world free from hatred and repression, a world that, despite all conflicts, still seems within reach.
For we will not accept, in the 21st century, that the politics of short-sighted interests and violence continue to determine international relations.
That is why I support the Tibetan people, why I support the Tibetan's non-violent resistance, out of deepest conviction, and based on an irrevocable understanding of Human Rights as being the universal and indivisible foundation of all our lives.
And yet, in Tibet, Human Rights are violated on a daily basis.
The Chinese government's way of dealing with the Tibetan people is incompatible with fundamental human rights and democracy.
The Tibetan people are forcibly deprived of their rights:
the right to self-determination,
the right to physical integrity,
the right to life,
the freedom to practise a religion,
and the freedom of faith and culture.
Therefore, supporting Tibet, as we all do, means demanding that China finally abandons its blockading tactics, finally engages in serious and credible political dialogue, and finally ends the ongoing repression.
Repression such as inequality in schooling,
when classes must be given solely in Chinese,
and the Tibetan people's mother tongue is merely taught as a foreign language.
Repression such as forced resettlement, but also the forced settlement of Tibetan nomads in so-called "socialist" villages, which pose a direct threat to traditional nomadic life, and certainly cannot be said to improve the living conditions of those concerned.
Repression such as the systematic surveillance of monasteries by in-house police units, which only comes as another provocation, worsening tensions and further embittering the Tibetan people.
All these forms of repression, and there are so many more, are unbearable.
So, for me, it is of utmost importance, that Germany and Europe, both the people and their politicians, show solidarity with Tibet, and fill this solidarity with life through our vigorous advocacy for the rights of the Tibetan people.
And when I say Tibetan people, this of course includes the numerous prisoners of conscience. Prisoners such as young blogger Druklo, also known as Shokjang, who has recently been sentenced to three years in prison, probably as a result of an article he wrote, describing the increased presence of Chinese security forces ahead of the 56th anniversary of the Uprising last year.
Prisoners such as Tashi Wangchuk, who has been detained by the Chinese authorities since 27 January of this year, for merely advocating wider Tibetan language education in schools, in an article in the New York Times in November 2015.
What is wrong, I ask you:
about caring about one's mother tongue,
about being afraid that many Tibetan children are unable to speak their native language fluently,
about fearing that the Tibetan culture might disappear step by step?
Druklo, Tashi Wangchuk and so many others, they have only campaigned:
for human rights and freedom,
for the protection of the environment,
for the protection of Tibet's natural resources
for the preservation of the Tibetan rich culture,
and for the Tibetan language.
I therefore call once again for the immediate release of all political prisoners in Tibet.
And I call for change, change that is so essential, in so many ways.
Change that is possible, as long as we don't look away, as long as we don't let ourselves be intimated by pressure from different sides, including from China, contrary to what has shamefully happened in countries such as Denmark, Switzerland … and the Vatican.
So, as we stand here today, in the capital of Europe, in the middle of a country that, certainly not without difficulties, has proven that multi-cultural co-existence is possible, this is our message:
Let the people in Tibet live in freedom;
Give them the power to decide upon their own destinies;
and give Tibetan culture the opportunity to thrive and flourish!
Of course, this message goes primarily to the leaders in Beijing, who don't want to hear a thing about the Tibetan people's rights.
Yes, of course, China is a world power, a military force, an economic giant, with millions and millions of good people, who only want to live their lives in peace and an ever-growing prosperity.
And yes, of course, China is on its way to playing a role of leadership in the world.
But: In order to assert that claim, in order to deserve a genuine role of leadership in the international community, the Chinese government would need to show cultural leadership, as well. As long as the Chinese authorities violate the human rights of their own people, however; as long as they oppress, enslave, and expel an entire nation; as long as they show themselves unable to safeguard peace and understanding in their own country; there cannot be true leadership.
Therefore, China, please find a way of reaching agreement with the Tibetans, the Uyghurs and the Mongolians; do yourself a favour and end the endless oppression; and release all political prisoners from jail!
In this context, the fact that the new Communist Party chief for the Tibet Autonomous Region, hard-liner Wu Yingjie, has used his first statement to underline the importance of the political "struggle" against the Dalai Lama, can only be interpreted as bad news.
Dear ladies and gentlemen, dear friends, there is something else, however, that a world and regional power such as China cannot afford, and that I would like to stress today: continuous and massive pollution.
Indeed, Tibet not only possesses a rich and diverse culture; its natural environment is equally rich and diverse, and it is of vital importance to the entire Asian and global ecosystem. Indeed, it is no coincidence that Tibet is sometimes referred to as the Third Pole. After all, one sixth of the world's glaciers are to be found in Tibet; and Tibet contains the world's third largest ice mass after the Arctic and Antarctica. On the other hand, more than 20 per cent of Tibet's ice mass has already vanished, and not less than half of its ice is likely to disappear over the next 40 years.
In this context, let us not forget that Tibet's 1.6 million square kilometres of permafrost detain more than 12 million tons of CO2, while global warming seems to affect Tibet more severely than the rest of the world.
Keeping all those elements in mind, the vital importance of Tibet's natural environment should be obvious to everyone, including to Beijing. This is even more true as Tibet is also known as the "water tower" of Asia.´
70 per cent of the water in the Ganges originate from Tibetan glaciers, which provide 30 to 50 per cent of all water contained in rivers in India, China, Pakistan, Bangladesh, Nepal, Vietnam, Thailand and Cambodia. In China alone, 300 million people depend on water from the Himalayas, and 1.3 billion people in general!
It is only logical, therefore, that as a result of melting glaciers on Tibetan territory,
there is less water, and less rainfall;
sandstorms have intensified in China;
and soil erosion has accelerated.
In other words, if Asia's water tower dries out, this will lead to more deserts, and less water, including in China. And yet, the Chinese government sticks to its policy of building more reservoirs. Uncontrolled mining continues to be adversely affecting the rich fauna and flora in Tibet. And heavy industry as well as a massive increase in traffic are causing black soot deposits on glaciers, which, according to the NASA, are the cause of half of all glacial melting.
The Tibetans' culture would never allow such destruction of the environment; here, Chinese politicians could learn quite a few lessons from Tibet.
As long as Beijing won't listen, however, the Tibetans will have to continue on their path marked by intelligence, honesty, realism and willpower, towards the final objective that is peace and freedom.
The Middle-Way Approach adopted by the Central Tibetan Administration and the Dalai Lama, which rightfully aims at achieving democratic autonomy through dialogue and non-violence, is the approach that we must support, not only out of conviction, but also for reasons of realism.
Yet, as a human rights activist and politician, I know how difficult it is to advocate for a policy that holds no promise of rapid results. I know how strong despair can be in the face of seemingly insurmountable obstacles. But conflicts can be resolved through sincere dialogue,
If they are conducted in a spirit of openness,
and with the willingness to move towards reconciliation.
It is now up to China to accept the Tibetans' offer of openness and dialogue, in order to finally move towards a peaceful and partnership-based solution to the Tibet question. Without such a joint approach, by contrast, we must expect the situation in Tibet to deteriorate, a prospect that no one wants to witness. For more escalation and radicalisation will claim more lives, and cause even greater loss, as if we hadn't seen enough of it already.
This is why, dear ladies and gentlemen, dear friends, we all stand with the Tibetan people, like so many others in Germany, Belgium, Europe and the world.
And personally speaking, I have a profound belief and heartfelt conviction that the solution to the conflict in Tibet will be found in dialogue.
So let today also be a day of an outstretched hand. Let us all leave Brussels and go home, wherever that might be, to carry a message of freedom and human rights.
And let us do all we can to support our friends in Tibet, so that, one day, the Tibetan people will be able to live in freedom and contentment, in their own country, alongside a strong and neighbourly China!
Thank you.
This is the full text of Claudia Roth's speech at the closing ceremony of the Seventh Tibet Support Groups Conference in Brussels, Belgium, on 10 September 2016.
About the author
Claudia Roth is the Vice President of the German Bundestag.