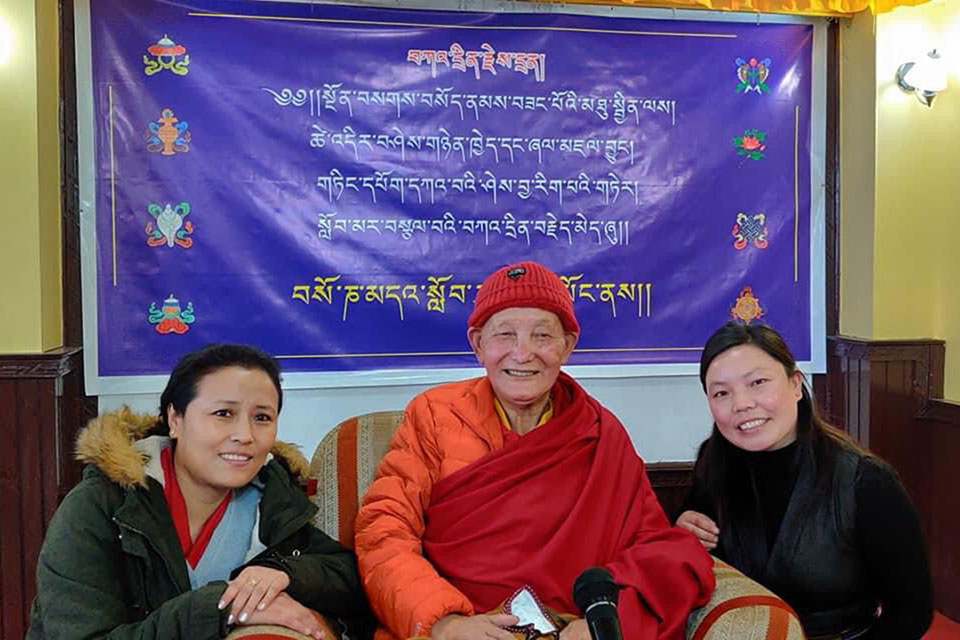 By Ringzing
GANGTOK, Sikkim, 1 February 2021
A group of former students of CST Sonada expressed their gratitude to their teacher TsaShi Lodoe Gyaltsen, who has been a teacher at Sonada Tashiling Tibetan Settlement school in Darjeeling from its inception in 1965 till he retired in 2004.
On Thursday at Hotel Tibet in Gangtok, Gyaltsen, now 84 years old, was honoured for his service of 40 years educating Tibetan students, in an event organized by Tsering Dhondup, Dolma Lhamo, Dr Sonam, and Tendrol. Guest at the event included the Khenpo of Kalu Rinpoche's monastery, ex-Khenpo Choewang of Gangtok Shedra, present and former teachers of various schools of Gangtok, and leaders of NGOs, institutions and schools.
Ghen Gyaltsen was appointed the first teacher when a Day School was started at the settlement, with a salary of 30 rupees per month. Ghen la's hard work and dedication transformed the day school into a boarding school. In addition to teaching Tibetan and taking on caretaker responsibilities, he also took on administrative responsibilities in the office.
The school attracted thousands of students, receiving proper care and education under his leadership, shaping the lives of all his students and prompted ngthem to become kind and generous human beings.
In 2004, after 40 years of service, he retired, but without any pension plan, preventing him from a smooth transition into old age. The reason for ineligibility for pension being that he did not fall under the CTSA or CTA staff retirement plan group, and rather to "internal staff" (rang-khong lhe-jhey).
Although the reality was harsh, Ghen la did not complain. For a man who had sacrificed his life in selfless service for our community and especially for the youth in the field of education, it was yet another sacrifice. For him, the sole purpose of his life was to give and serve, selfless in his services and deeds.
He was a giver; his contribution was endless and selfless. He was 'The Unsung Hero' in its truest sense.
Ghen Gyaltsen was born in Sakya, in Central Tibet. He was ordained as a monk when he was 10 years old in the Sakya Choedhe-Chogo Lhunpo Monastery, and grew up in that monastic institute.
Following the Chinese occupation of Tibet in 1959, he followed the Dalai Lama into exile. He continued with his studies and received his Tibetan literature and grammar tutelage under the mentorship of renowned Tibetan scholar Khenpo Sangau Tenzin Rinpoche. He then undertook a teacher's training course under the Department of Education, Central Tibetan Administration, and excelled at it by becoming the top graduate.
As a mark of respect and appreciation for Ghen Gyaltsen la's selfless services, his former students have raised funds to renovate the school dining hall floor for one lakh rupees. In a second project, the ex-students are purchasing musical instruments for the school, with another one lakh rupees in donations.
Both these projects will be completed in a few months, under Ghen Gyaltsen la's name.