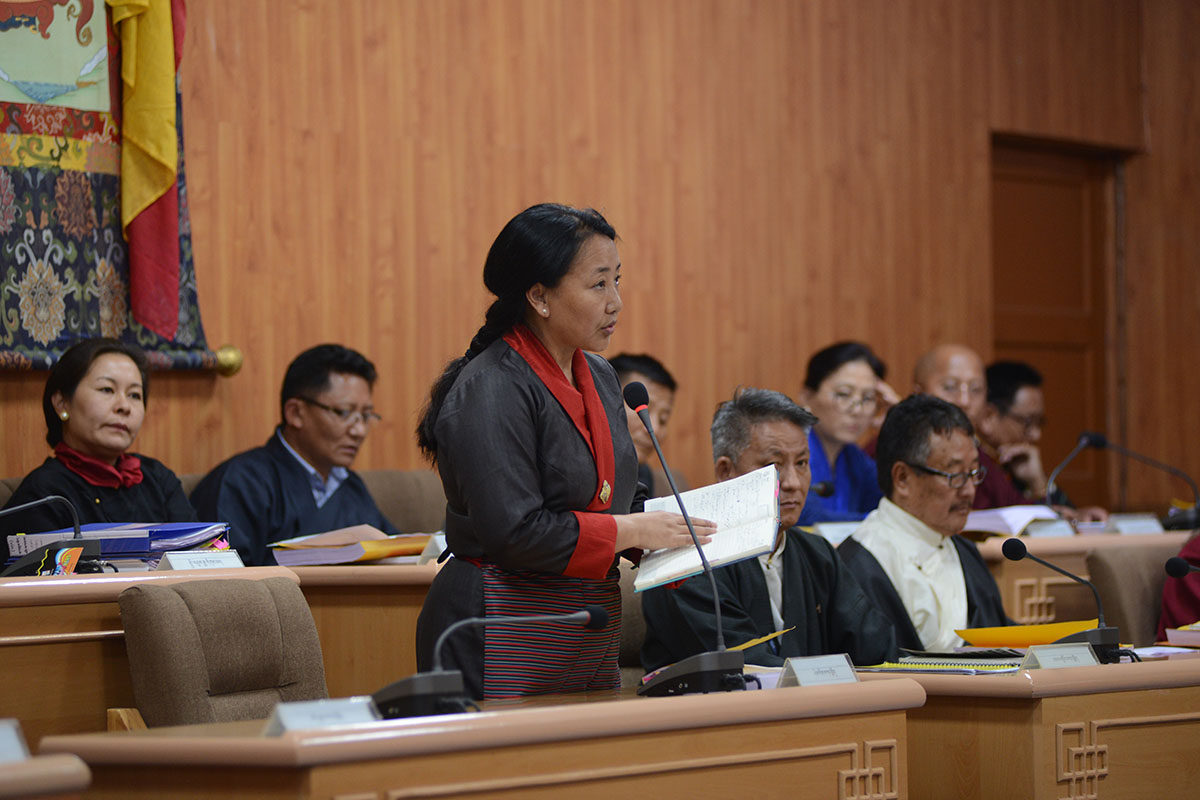 By Lobsang Wangyal
McLEOD GANJ, India, 31 March 2019
From the total budget of 2.5 billion rupees approved for the financial year 2019-20 for CTA's spending by the Tibetan Parliament-in-exile, 559 million rupees has been allocated for the education sector. This forms the highest amount, corresponding to 22% of the budget.
The Department of Education has got 262 million, and Sambhota Tibetan Schools Society a sum of 297 million rupees.
There are 68 Tibetan schools in India and Nepal educating 19,000 students (2018 data). Of the total, 30 schools are under the Department of Education, administered through Sambhota Tibetan Schools Society. Central Tibetan Schools Administration (CTSA) funded by the Government of India has six schools. Tibetan Children's Village (TCV) runs 16 schools, Tibetan Homes Foundation three, Snow Lion Foundation Schools in Nepal has nine schools, and there are four privately-run Tibetan schools.
Since the Government of India's approval to transfer CTSA schools to CTA in 2013, all except six schools have been handed over to and are being run by CTA. The decision of the transfer of the remaining six will be taken in 2021. These six are: CST Mussoorie, CST Dalhousie, CST Shimla, CST Kalimpong, CST Darjeeling, and CST Herbertpur.
The schools run under CTA having shown better results in the All-India Secondary and Senior Secondary (class X and XII) examinations, CTSA has been requested to transfer their schools to be run by CTA.
CST Mussoorie is the oldest and the largest Tibetan school, founded after the Dalai Lama came into exile. Tibet Sun has learned that this school has only 50 Tibetan students today. CST Shimla has less than 50, and CST Dalhousie has only 15 Tibetan students. Student numbers have been shrinking in the rest of the schools as well.
A lower birth rate, emigration of Tibetans to the West, and much lower numbers of new arrivals from Tibet over the years are said to be the reasons for shrinking number of Tibetan children in India and Nepal, Secretary of Department of Education Karma Singey told Tibet Sun.
"We are now working on closing some of the schools, as the number has been significantly reduced in Tibetan schools in India," Singey said.
As the the number of Tibetan children are now increasing in countries like the US, Canada, Australia, and European countries, Singey said that his department is taking up offers to help support the Tibetan culture and language schools organised by Tibetan associations in those countries.
"We have been providing workshops on Tibetan language, and also cultural teachers, who teach at the weekend schools in various countries, to help them get better skills. Right now we are working on a meeting of all the community leaders and teachers to discuss how to raise the standard of learning at these weekend schools. The meeting will be held in New York City in August."
Other ways to have Tibetan language taught to Tibetan children, Singey said, would be to request classes of the school administrations that have a large number of Tibetan students. He said that Tibetans in Sydney have requested a school there to provide Tibetan language classes in the school. "It will be good if this happens," Singey said.
He added that similar requests could be made by Tibetans living in Toronto. "There are many Tibetan students going to Queen Victoria Public School in Parkdale. A similar request for teaching Tibetan language could be made in this school."