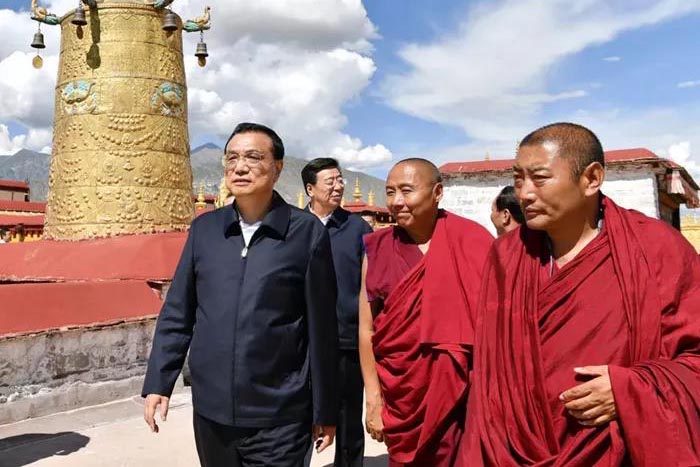 By Teddy Ng and Matt Ho | South China Morning Post
ON THE WEB, 29 July 2018
Li Keqiang has made a rare trip to Tibet, the first publicly reported visit by a Chinese premier to the remote Himalayan region in recent decades.
During his tour on Wednesday and Thursday, Li visited the capital Lhasa and the southern prefectures of Nyingchi and Lohka, pledging to boost infrastructure investment to improve the economy and calling for ethnic unity between Tibetans and the country's Han majority, according to government statements released on Friday.
While senior Chinese leaders do visit the region on major anniversaries, presidents or premiers seldom make the trip. President Xi Jinping visited Lhasa in 2011, when he was vice-president, for the 60th anniversary of communist troops entering Tibet.
In Lhasa on Thursday, Li met Buddhist leaders at Jokhang Temple and urged them to defend national ethnic unity. He also stopped at the historic Sino-Tibetan Treaty Inscription that marks an alliance between Tang dynasty China (618-907) and the kingdom of Tibet in the early 9th century – a symbol of ethnic unity in Beijing's eyes.
On Wednesday, the premier went to a site in Lohka where a tunnel is being built for a railway line between Tibet and Sichuan, a major transport link for the region, saying Beijing would invest more in infrastructure to help the economy in midwest China. In Nyingchi, Li bought Tibetan tea at a shop and visited families who had been relocated from impoverished areas.
Li's trip came as Xi is on a 10-day trip to the Middle East and Africa. Beijing is also focusing on how to cushion the country's economy from the fallout of a trade war with the United States.
Barry Sautman, an expert on Chinese ethnic politics at Hong Kong University of Science and Technology, said when top leaders went to places like Tibet, they usually had one thing in mind – ethnic unity.
"The real question I guess is whether while he was there he promised to do anything which was in addition to the preferential policies for ethnic Tibetans," he said.
"Do they want to make sure that the existing policies are implemented, or do they take the opposite path – to create a new kind of ethnic policy for China, and of course for Tibet?
"There's a long debate about it, which has been going on for more than a dozen years after 2008," Sautman said.
Beijing has ruled Tibet with an iron fist since communist troops marched into the western region in 1950 and took control in what Beijing calls a "peaceful liberation".
There have been sporadic protests against Beijing's rule in Tibetan parts of the country, including riots in March 2008 ahead of the Beijing Olympics.
Security and surveillance was stepped up when the region's previous party chief, Chen Quanguo, took office in 2011. In Lhasa, more than 100 police stations have been installed on street corners, the closest just 15 metres apart.
Control of Tibetan Buddhism has also been tightened in recent years, with the ruling Communist Party taking over the formerly independent religious academy, Larung Gar. This month, children in Tibet were also banned from taking part in any form of religious activity during the summer break, according to state media.
In the past, Beijing has sent the top party leader overseeing ethnic minorities and religion – often the chairman of the national political advisory body – to visit Tibet, while major anniversaries have been marked by a vice-premier leading a central government delegation to Lhasa, according to The Beijing News. Other Politburo members have occasionally visited the region, while Jiang Zemin and Hu Yaobang both went to Lhasa as party general secretary in 1990 and 1980, respectively.