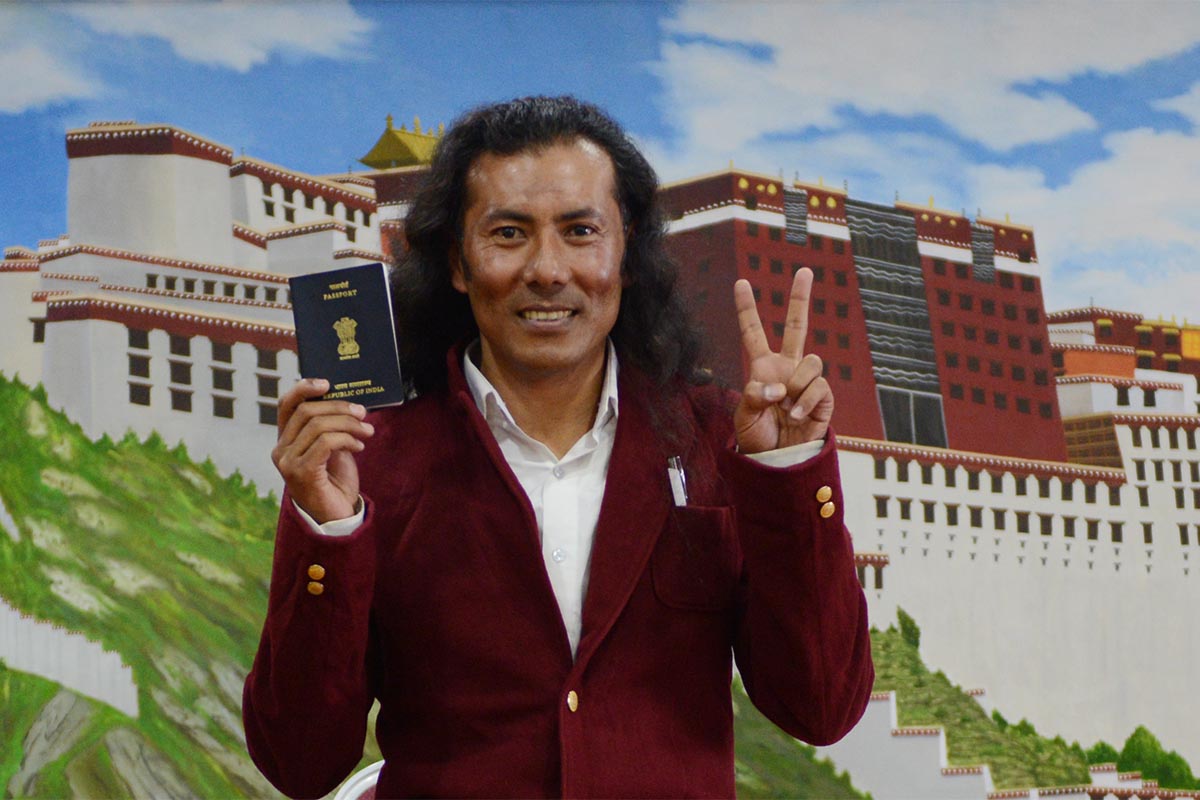 Tibet Sun Newsroom
MCLEOD GANJ, India, 16 March 2017
After ten arduous months fighting two consecutive legal battles in the Delhi High Court, Tibetan journalist and social entrepreneur Lobsang Wangyal finally obtained his Indian passport.
"India is governed by rule of law," Lobsang said. "The court has given its judgement in our favour, and India is not a Banana Republic."
In a press conference in McLeod Ganj today, Lobsang showed his newly-obtained passport, gave the history of the legal cases, and explained the citizenship and passport issues related to Tibetans in India.
The first case was filed in May of 2016, and was concluded with a judgement in his favour in September of the same year. In the landmark judgement, the honourable Justice Sanjeev Sachdeva quashed the government's decision to ask for a citizenship certificate from Tibetans when they apply for a passport. This paved the way for Tibetans to apply, but it was not followed through.
Consequently, Lobsang filed a contempt petition in February, which the court resolved later that month. The passport office issued a passport to him despite police obstructions stating unnecessarily that he didn't have a house or property to prove he was a permanent resident.
Passport status for Tibetans not clear
After this contempt petition was resolved, it is still not clear whether Tibetans can apply for a passport. The Ministry of External Affairs (MEA) has not issued a new rule to the Regional Passport Offices (RPOs). The old rule is that Tibetans are asked for a citizenship certificate — "which nobody is issuing," said Lobsang, as he recounted his attempts to find an office to issue one to him.
Lobsang was told by an officer at the RPO Shimla that the MEA is "looking at the issue", and a decision may soon be taken to issue passport to Tibetans.
Tibetans born in India are citizens
According to Indian law, anybody born in India between the years 1950 and 1987 are citizens of India. This is the "Indian Citizenship Act 1955" — which began 62 years ago.
Following the Chinese occupation of Tibet in 1959, thousands of Tibetans sought political asylum in India. The Government of India issued them stay permits through Registration Certificate (RC), and it became the norm for all Tibetans to hold this document, even when born in India. It had to be renewed every year (now every five years). A holder of an RC is not considered to be an Indian citizen, in spite of the Indian Citizenship Act 1955.
For Tibetans to travel abroad, the Indian government issued the Identity Certificate (IC) (popularly known as the "Yellow book" because of the colour of the cover) in place of a passport. "It takes at least one year to get an IC, and then each time you travel, you need to get a return visa and an exit permit, a complex and time-consuming process," Lobsang said.
What exile Tibetan Charter says
The Tibetan Charter, clause 8 section 2, says that any exile Tibetan can take citizenship of any country if need be. To show their allegiance to the Central Tibetan Administration (CTA), they hold a "Green book" which reflects their tax payment to CTA.
By revoking the RC and IC, which is required to get the Indian passport, a Tibetan is not renouncing their allegiance to CTA, and can continue to hold the Green book. This is what Lobsang plans to do.
Any Tibetan seeking benefits from CTA, such as employment or medical assistance, must hold an RC and the Green Book. But Indian passport holders will not have a RC as it must be surrendered after getting the passport. Then again, to serve in the highest executive posts of Sikyong or Kalon, an RC is not required. This is a discrepancy which Lobsang requests the Kashag to rectify, either by making RC mandatory for everything that is related to CTA, or scrap the need for RC as a proof of identity. As the Indian passport becomes easier to get, many Tibetans will be giving up their RCs.
RPO Shimla, being the nearest passport-issuing authority, cancelled and returned Lobsang's Yellow book after they accepted his application for passport, as per the government rule.
Lobsang said that today he went to submit his RC to the SP (Superintendent of Police) office. RPO Shimla has written to the Himachal Pradesh Home Department to look into the procedure for revoking the RC.
He stated, "It is hoped that to surrender RC would be similar to that of the Yellow book, and that the government will ask RC holders to surrender theirs to the nearest SP office."
"My fight will go on"
At the end of the press conference, Lobsang pointed out that despite the law clearly stating that those who are born in India between 1950 and 1987 are Indian citizens, he still had to go to court to get this law to be enforced. He felt this was a waste of the court's time, government's time, and his own time and money.
"If there is a law and the government does not implement it, what is the point of having a law? If all Tibetans have to go to court one by one to get their passport, imagine how much more time and money is wasted.
"My fight will go on until all the eligible Tibetans who want a passport can get one."