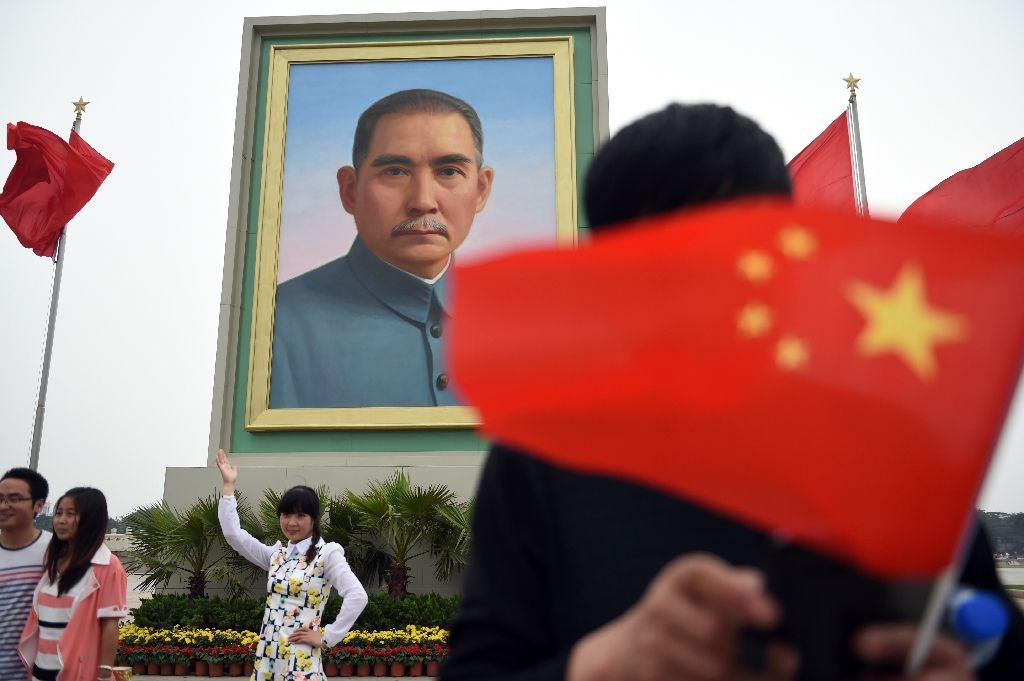 By Benjamin Carlson | AFP
ON THE WEB, 11 November 2016
China's ruling party is marking the 150th birthday this week of the man who ended millennia of imperial rule by trumpeting republican revolutionary Sun Yat-sen as a proto-Communist and a symbol of unification with Taiwan.
Commemorative stamps have been issued in Hong Kong, Taiwan, and mainland China to honour the Western-educated doctor who railed against the Qing dynasty and whose 1911 revolution toppled the empire.
The Republic of China he founded still controls Taiwan, where its leaders fled after Mao Zedong's forces won the country's civil war in 1949 and set up the People's Republic.
Chinese President Xi Jinping highlighted their shared heritage earlier this month when the leader of Taiwan's Kuomintang (KMT) nationalist party — founded by Sun — visited.
"Mr Sun was a great patriot, and his loudest slogan of all was to call to rejuvenate China," the official Xinhua news agency quoted Xi as saying.
But the Kuomintang was ousted from power in Taipei at the ballot box earlier this year by the Democratic Progressive Party, on a wave of popular scepticism over ties with the mainland.
And Sun is remembered very differently from Beijing's version by some scholars and overseas Chinese, who say that the cosmopolitan, Christian, republican physician would hardly be a supporter of the Communist Party today.
Sun was "once a student leader who plotted against the then millennia old dynastic regime", Hong Kong University medical school dean Gabriel Leung said in a speech, comparing his activism to student-led protests against Beijing in the city.
In Hong Kong's liberal Apple Daily newspaper, analyst Zhang Zanyong said that like the anti-Beijing activists, Sun relied on foreign support — raising funds for his revolution from Chinese living in the West — and "picking quarrels" to undermine the existing regime.
Mainland authorities frequently level the allegation at rights activists as a criminal charge.
Duelling memories
Born in southern China 150 years ago on Saturday, Sun was educated in Hawaii and Hong Kong, then a British colony, where he was inspired by republican ideals to organise for the overthrow of the Qing empire.
But his tenure as the republic's first president lasted less than three months and the country quickly descended into chaos and conflict between rival warlords. He died in 1925.
For decades Sun has been revered in Taiwan as the "father of the nation", devoted to the revival of China and the development of democracy.
On the mainland, though, he is designated a pioneer of revolution and the Maoist regime, according to Taiwanese academic Ren Songlin, accusing the Communist Party of using him as a "puppet".
"When it needs to, it just shakes the rattle a bit, when it doesn't need him, it tosses him away," Ren told an anniversary event in the US.
At the memorial hall in Sun Yat-sen's birthplace of Zhongshan — a city renamed in his honour — guides shepherd dozens of young students in army fatigues through the exhibits, while elderly couples and families peer into rooms holding his former desk and bathtub.
Cai Yuanxing, a retired civil servant from Beijing, said he had purchased commemorative stamps and coins, adding that people "worshipped" Sun because he "made Chinese people open their eyes".
Other visitors praised him for liberating China but said his work was not done.
"If not for him we would still be wearing queues," factory manager Thomas Zheng told AFP, referring to the pigtails the Manchu Qing obliged Han Chinese to grow.
"His only regret was he couldn't make China united," he added, echoing the official line.
Sun's vision was not for Western-style democracy but a system that "suited China's national circumstances", he said.
"In fact, Chinese people believe that Taiwan's democracy is just a joke. … If you mechanically copy Western democracy, China will return to the beginning of the republican era — in a word, chaos."
Fading glory
On the island itself, the state's glorification of Sun is being increasingly rejected by a younger generation who have grown up with a sense of Taiwanese identity.
In 2014 a radical independence group pulled down a statue to him in the southern city of Tainan.
"To Taiwan's pro-independence people he is a non-native historical figure who represents unification ideology," Huang Ko-wu, research fellow at the Academia Sinica's Institute of Modern History in Taipei told AFP.
As such, using him to promote unification was not "persuasive", he said.
"History cannot resolve real political issues."