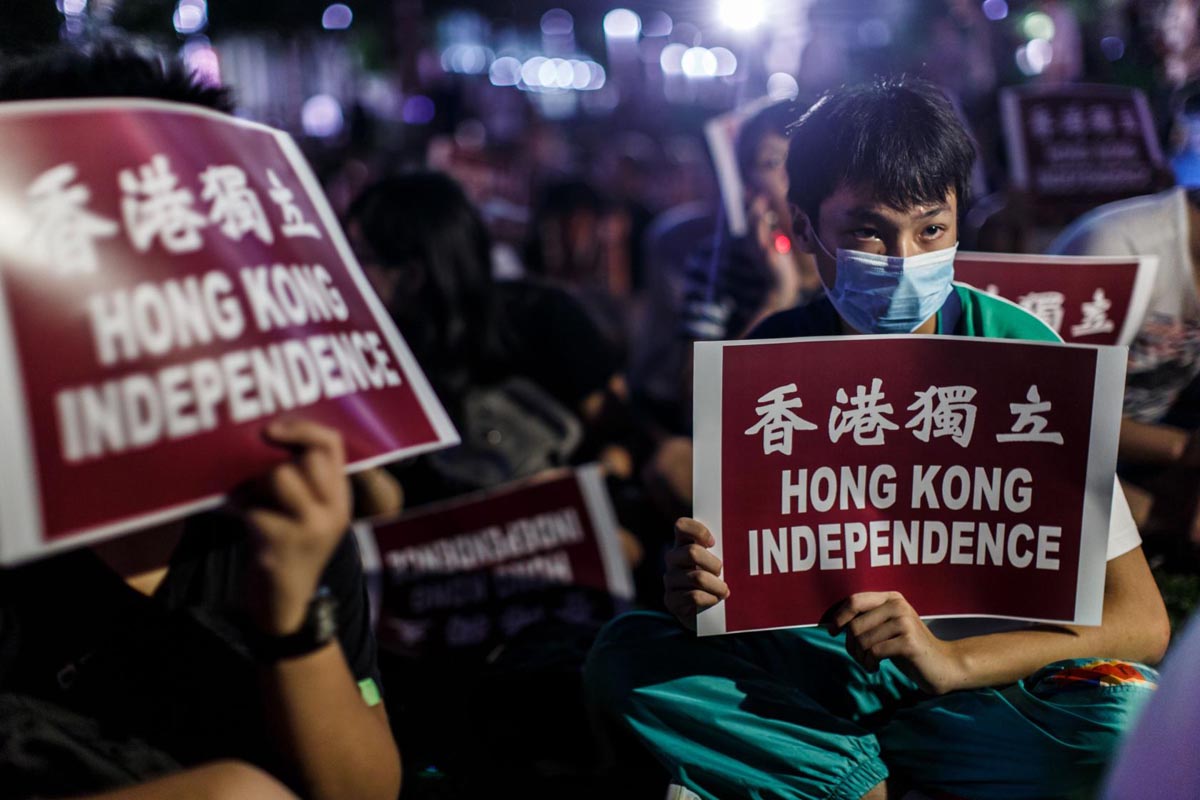 By Laura Mannering and Aaron Tam | AFP
ON THE WEB, 6 August 2016
Candidates banned from standing for election in Hong Kong because they are advocating a split from mainland China led the city's first pro-independence rally Friday as tension over the upcoming vote escalates.
Five pro-independence candidates who tried to register were rejected by election officials who said their stance went against Hong Kong's mini-constitution.
Critics have slammed the move as censorship as fears grow over Beijing interference in the semi-autonomous city in a range of areas, from politics to media and education.
A park near the government's harbourfront headquarters filled with thousands of supporters through Friday evening.
Most sat calmly on the grass, many of them holding "Hong Kong Independence" placards and flags, as they listened to activists speak.
They applauded as banned candidate Edward Leung, the leader of new party Hong Kong Indigenous who is gaining a growing following, addressed the crowds.
"Hong Kong's sovereignty does not belong to (Chinese President) Xi Jinping, does not belong to the authorities, and does not belong to the Hong Kong government. It belongs to the Hong Kong people," said Leung.
Protester Satomi Cheng, a 49-year-old office manager, said many in the city were angry about China's tightening grip.
"Day by day our human rights… are taken away by the Hong Kong government and the Chinese government," she told AFP.
Some acknowledged that independence was a pipe dream in the face of a powerful Beijing, but said the city was running out of options.
"China has destroyed Hong Kong politics… we are supporting freedom and democracy," said student Clayton Chow, 19.
Andy Chan, 25, leader of the pro-independence Hong Kong National Party and a disqualified candidate, said the rally was a chance to talk about the future.
Pro-independence activists including Chan have previously advocated violence — he said they had now decided that would not work.
"We don't want people to get hurt or arrested, so we want to start with a public meeting and hopefully it will be a healthy path for us to get stronger," he told AFP.
As Chan wrapped up the rally he shouted "Hong Kong Independence", a chant echoed back to him by the jubilant crowd.
No more taboo
The idea of independence is dismissed as illegal by Beijing and Hong Kong authorities, and was a taboo subject until recent months, when new parties emerged campaigning for a breakaway.
They evolved out of the "localist" movement of mainly young campaigners disappointed after mass rallies in 2014, known as the Umbrella Movement, failed to win concessions from China on political reform.
Localist groups are pushing for more autonomy for Hong Kong and characterise it as culturally separate from the mainland.
Some localists do not advocate independence, but are instead pushing for self-determination for Hong Kong, an idea which has taken root among other pro-democracy campaigners.
Demosisto, a new party set up by Umbrella Movement activists including well-known campaigner Joshua Wong, has made self-determination its central platform, although it does not cast itself as a localist organisation.
Those calling for self-determination have been allowed to stand in September's legislative vote.
The ban on activists supporting a complete break from the mainland has triggered widespread anger across the pro-democracy camp. Thirty leading lawyers also came out against the move.
But Jasper Tsang, the outgoing president of the city's legislature, insisted it was legal.
"The government and people from all walks of life don't want to see the election becoming a stage for promoting Hong Kong independence," he told reporters.
Hong Kong was handed back to China by Britain in 1997 under an agreement that protects its freedoms for 50 years, but concern is growing that those liberties are disappearing.