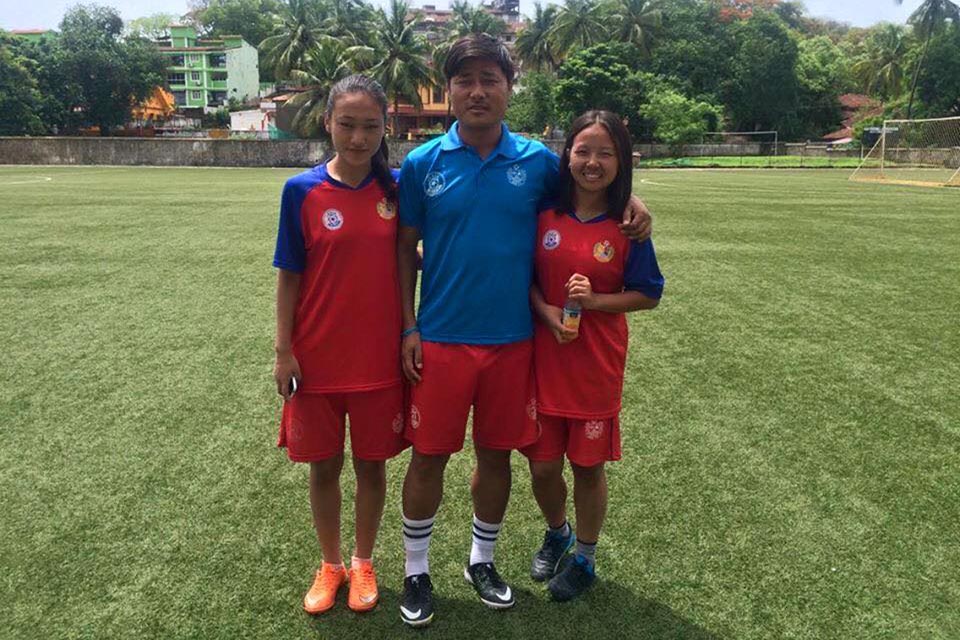 Tibet Sun Newsroom
MCLEOD GANJ, India, 20 June 2016
Two Tibetan women footballers have become licensed coaches, according to a press release from Tibet Women's Football (TWF).
Lhamo Kyi (19) and Jamyang Choetso (18), both from Dharamshala, earned their All India Football Federation (AIFF) 'D' Coaching Licenses from the Goa Football Club.
The two were chosen for the training after the Goa Football Club offered to have two Tibetan players attend the course, which they organised in Duler Stadium, Mapusa.
The Tibet Women's Football team competed in the Goa Women's Football Tournament in May, bringing home the runners-up trophy.
"Lhamo Kyi and Jamyang Choetso have become the first women of their nation to become formally qualified football coaches," said Cassie Childers, the Executive Director of Tibet Women's Football.
The young women were accompanied by TWF Director of Football Gompo Dorjee from Clementown, who also successfully completed the course.
Lhamo Kyi and Jamyang Choetso, better known by her nickname 'Wangla', were both born in Tibet. They escaped into exile in India at the ages of six and eight respectively.
Kyi is known for scoring the first goal in Tibet Women's Football history in June 2012, against Kangra District team, in front of a crowd of 8,000 people at Upper TCV School grounds, while serving as the team's first captain.
The Tibet Women's Football and Welfare Society is a registered NGO based in Clementown, in the Indian state of UttraKhand.
Ms Childers said that TWF plans to continue to sponsor coaching courses and offer formal scholarships to young Tibetan women entering sports careers, ensuring the future of female-led sports in Tibetan society.
Four senior players are expected to undergo entrance exams to major Indian universities to earn their Bachelors in Physical Education later this month.