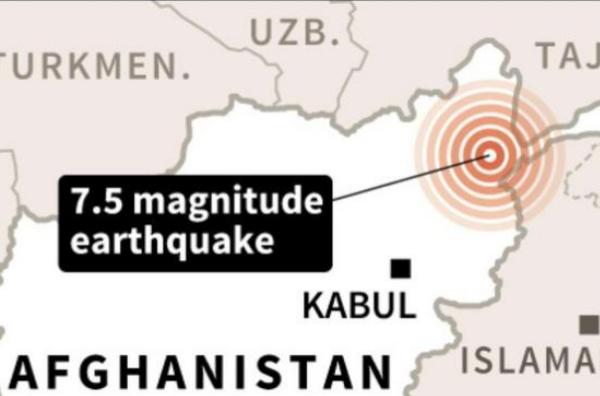 AFP
KABUL, Afghanistan, 26 October 2015
A powerful 7.5 magnitude earthquake killed at least 70 people as it rocked south Asia on Monday, including 12 Afghan girls crushed to death in a stampede as they tried to flee their collapsing school.
Thousands of frightened people rushed into the streets in Afghanistan, Pakistan and India as the quake shook a swathe of the subcontinent.
It was centred near Jurm in northeast Afghanistan, 250 kilometres (160 miles) from the capital Kabul and at a depth of 213.5 kilometres, the US Geological Survey said.
The epicentre is just a few hundred kilometres from the site of a 7.6 magnitude quake that struck in October 2005, killing more than 75,000 people and displacing some 3.5 million more, although that quake was much shallower.
The death toll rose rapidly Monday amid reports of buildings reduced to rubble, with Pakistan heavily hit.
Horrifying news emerged of at least 12 schoolgirls being trampled to death in a northern Afghan province.
"The students rushed to escape the school building in Taluqan city (capital of Takhar), triggering a stampede," Takhar education department chief Enayat Naweed told AFP.
"Twelve students, all minors, were killed and 35 others were injured."
Separately, in Nangarhar province bordering Pakistan, Six people were killed and 69 injured, Najeeb Kamawal, head of the local public hospital told AFP.
At least 28 people were known to have died in Pakistan's northern tribal areas, 20 in the northwest, three in Gilgit-Baltistan and one in Pakistani Kashmir, various officials told AFP.
Eight children were among the dead in Pakistan.
Very powerful
The quake, which lasted at least one minute, shook buildings in Kabul, Islamabad and New Delhi.
At least one aftershock hit shortly afterwards, with the USGS putting its magnitude at 4.8.
In a statistical prediction on its website, the agency said there was a one-third chance of the number of fatalities climbing to between 100 and 1,000 people, with several million dollars' worth of damage likely caused.
The rescue effort was being complicated by the lack of communications, with the region's already-fragile infrastructure hit.
Gul Mohammad Bidar, deputy governor of Badakhshan in Afghanistan, told AFP lines were down and it was difficult to reach stricken communities.
"The earthquake was very powerful — buildings have been damaged (in Faizabad) and there are possible casualties. We have sent a team around the capital Faizabad to assess the scale of the destruction."
Pakistan mobilised its troops and all military hospitals have been put on high alert, army spokesman Lieutenant General Asim Bajwa said, adding that specialised earthquake rescue machinery and army helicopters were being readied for use.
The Pakistan Air Force said it was offering full support to the National Disaster Management Authority.
Arbab Muhammad Asim, district mayor for Pakistan's northwestern city of Peshawar, said more than 100 people had been injured there alone.
"Many houses and buildings have collapsed in the city," he said.
Dr Muhammad Sadiq, the head of emergency services at a government hospital in Peshawar said the injured were still being brought in.
"Many are still under rubble," Sadiq told AFP.
Panicked residents
Afghanistan's CEO Abdullah Abdullah said reports of damage and injuries were coming in from the northeast.
"Disaster authorities to meet within the hour and respond to the needs," he tweeted.
Traffic came to a stop in downtown Kabul, with frightened people getting out of their cars as they waited for the quake to stop.
As buildings shook throughout north India, hundreds poured onto the streets from office blocks, hospitals and and homes.
Delhi's metro ground to a halt during the tremor although the airport continued operating.
Cellphone networks were down in the Kashmir region, where panicked residents also evacuated buildings and children were seen huddling together outside their school in the main city of Srinagar.
"Some bridges and buildings got damaged. There are no reports of loss of life so far. Cellphone networks are down, we are using our wireless network to gather information," police inspector general in Kashmir, Javid Gillani, told AFP.
Many buildings were badly damaged during massive floods in Kashmir a year ago, heightening the danger of collapse during the quake.
Indian Prime Minister Narendra Modi took to Twitter immediately after the quake.
"Heard about strong earthquake in Afghanistan-Pakistan region whose tremors have been felt in parts of India. I pray for everyone's safety," he wrote.
"I have asked for an urgent assessment and we stand ready for assistance where required, including Afghanistan and Pakistan."
Afghanistan is frequently hit by earthquakes, especially in the Hindu Kush mountain range, which lies near the junction of the Eurasian and Indian tectonic plates.
South Asia's quakes occur along a major fault line between the two tectonic plates — one under India pushing north and east at a rate of about two centimetres (0.8 inches) per year against the other, which carries Europe and Asia.
In Nepal twin quakes in May killed more than 8,900 people, triggered landslides and destroyed half a million homes.