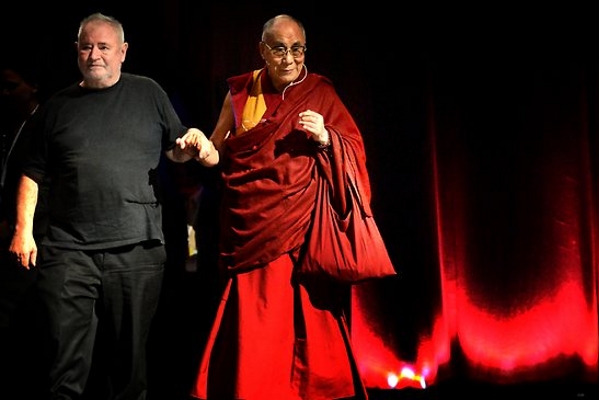 By Andy Burns | Herald Sun
MELBOURNE, Australia, 18 June 2013
The Dalai Lama was in Melbourne yesterday promoting peace — and a pop song.
The Tibetan spiritual leader spoke at the Melbourne Convention Centre to a crowd of about 6000 devotees.
Actress Magda Szubanski hosted the event and introduced a pop song, on which he features, that goes on sale on iTunes this week.
Love Love Love features "words of wisdom" from the Dalai Lama, and Szubanski said she wanted it to go to number one with a bullet.
"It would be pretty cool to see His Holiness at number one on the charts," she said.
Youth advocate Les Twentyman introduced the Buddhist leader.
The Dalai Lama said he had enjoyed sharing his thoughts on his latest visit to Australia. "Fundamentally I always consider the importance of the oneness of seven billion human beings, physically, mentally and emotionally we are same," he said.
The 77-year-old said his rigorous touring schedule did make him physically tired sometimes, but mentally he was "always fresh" because he did not prepare speeches or become anxious when he had to talk to large groups of people.