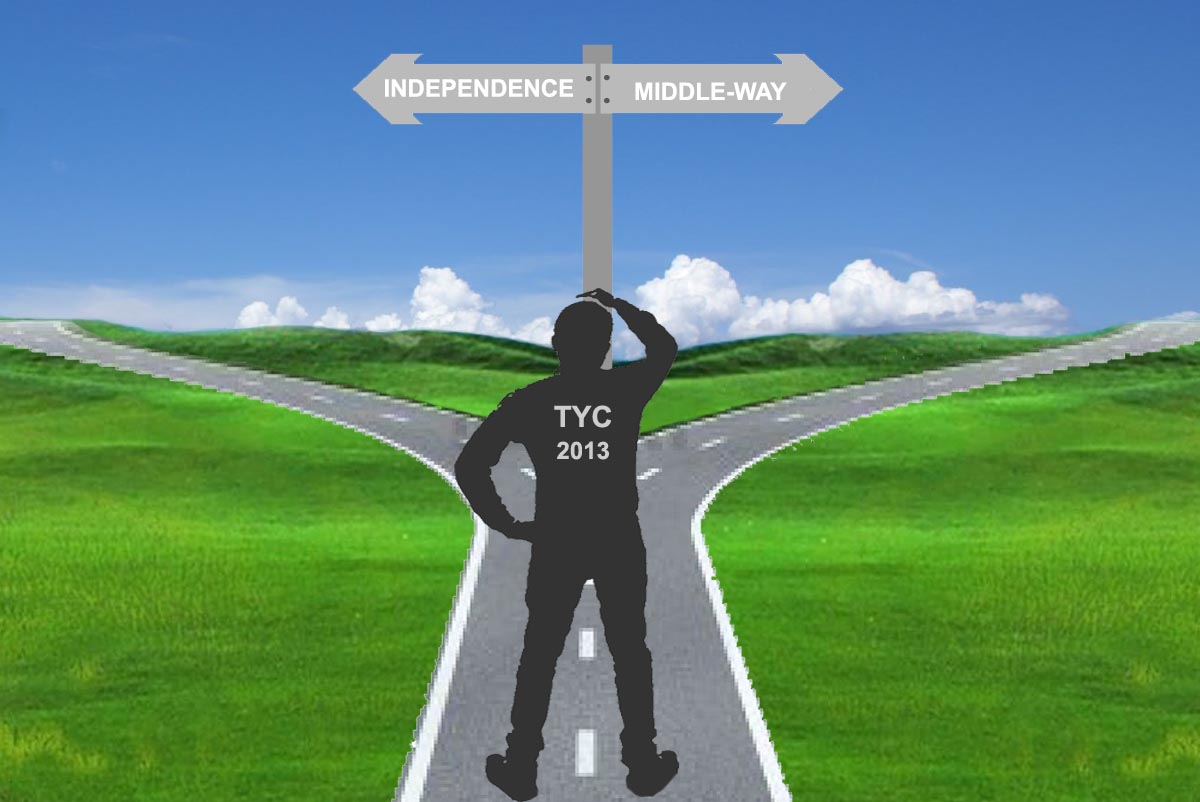 By Lobsang Wangyal
MCLEOD GANJ, India, 29 April 2013
After coming into exile in 1959, the Dalai Lama along with his followers rallied the world for an independent Tibet from his exile base in McLeod Ganj. However, in 1974, the goal was changed to what the Dalai Lama calls a mutually-beneficial "Middle-way" policy, seeking autonomy within China. In that arrangement, Tibetans would rule all the ethnically-Tibetan-inhabited areas of Tibet, which includes Amdo, Kham, and U-Tsang (with a size of 2.5 million square kilometres), except for foreign policy and national defence which would be the responsibility of China.
In 1970, exiles started their first NGO — the Tibetan Youth Congress (TYC). The preamble of the charter of TYC states, one: Members of TYC accept to dedicate themselves to the task of serving their country and people under the guidance of His Holiness the Dalai Lama, the spiritual and temporal ruler of Tibet, and two: to struggle for the total independence of Tibet even at the cost of one's life.
Since the adoption of "Middle-way", which does not seek independence, as the policy of the Dalai Lama and the exile administration for the future of Tibet, these two clauses of TYC have been contradicting each other, as the first pledge is to work according to the Dalai Lama's vision (read "Middle-way policy of not seeking independence") and the other clause talks about seeking independence (read "separation from China").
Also the charter continues to refer to the Dalai Lama as the "spiritual and temporal ruler", although he abdicated his political responsibilities in 2011.
The Dalai Lama's recent speech in Salugara in the Indian state of West Bengal has stoked debate after he said that independence cannot be achieved and that Tibetans would thrive living within one big China. He also said that the Middle-way policy has support from a large number of Chinese.
Following this speech, four Regional Tibetan Youth Congress chapters in South India, which form an important part of the TYC, convened a one-day meeting on 17 April and concluded with a call for discussion about the Salugara speech. This implies that members of the TYC would consider changing the "Independence" stance to "Middle-way" policy.
Have you heard the Dalai Lama's Salugara speech? Should TYC change its stance from "Independence" to "Middle-way"?
What is your opinion on this?