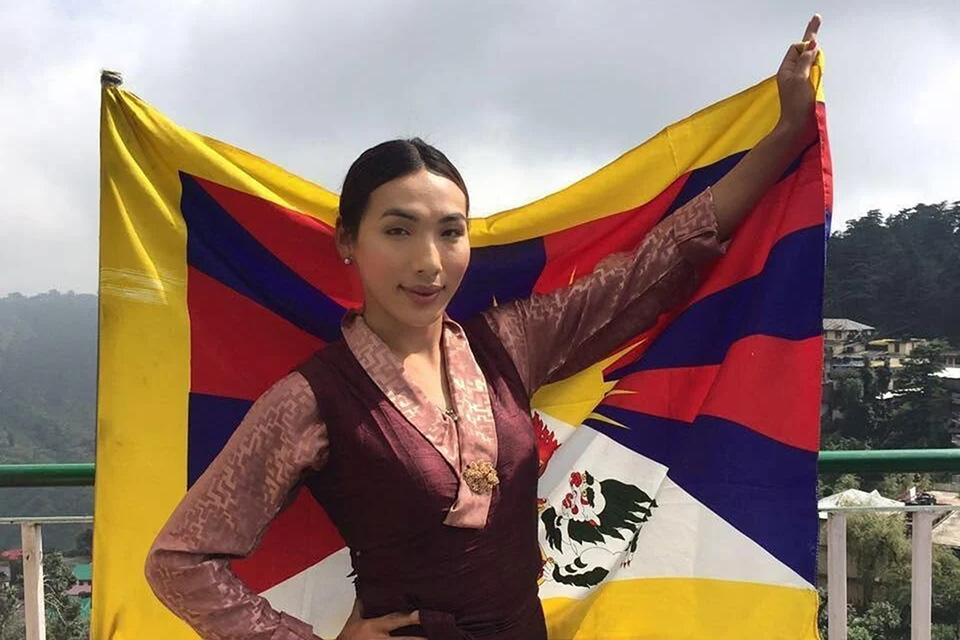 By Natasha Khullar Relph | SCMP
ON THE WEB, 5 September 2020
In her white sleeveless top, strappy silver sandals and long blue skirt, which is destined to be thrown off minutes into her set, dancer Tenzin Mariko stepped onto the stage tingling with nerves. She was convinced audience members would throw tomatoes at her, or worse, eggs and shoes.
Mariko was just 17 at the time, and no ordinary dancer. She was about to reveal herself as a woman for the first time, rather than the boy she had been born as.
Born in India but ethnically Tibetan, Mariko was nine when she was sent to live in a monastery in the hill town of Darjeeling, in India's West Bengal state, to train for life as a Buddhist monk.
"I've always felt like a girl," she says. "My schoolmates would bully me, calling me words like chakka or hijra [eunuch or intersex], but I didn't even know what that meant." At the monastery, the monks jokingly called her "ani", the Tibetan word for nun.
It was in 2015, at the Miss Tibet pageant in the northern Indian city of Dharamshala, with more than 3,000 people in the audience, that Mariko came out publicly, and without apology, as a transgender woman. She is now the first and possibly only Buddhist monk – and Tibetan – in history to do so. As a result, she has been publicly and privately denounced, and physically assaulted.
Although she has been through a lot, these days Mariko stands tall and today is a model, dancer and make-up artist, and has more than 30,000 followers on Instagram.
"To make your own life, you have to be selfish sometimes," she says. "You can't ever be shy about who you are. You have to respect yourself and walk with your head held high. If you can do that, people will never be able to look you down."
Like many Tibetans, Mariko's parents fled their homeland, which had been annexed by the People's Republic of China in 1950, leaving behind another child. In Dharamshala, nestled in the Himalayas and where the Tibetan spiritual leader the Dalai Lama lives, they started a new family. They went on to have five more children, all boys and all destined to become monks.
Tibetan refugees in India came largely from traditional farming families, but they quickly adopted more modern lifestyles. The second generation acquired identity cards, moved to big cities such as New Delhi, and started experimenting with new ideas of what it might mean to be Tibetan. For Mariko, it meant being a woman.
"It was a very bold move," says Lobsang Wangyal, director of the Miss Tibet pageant in which Mariko came out to the world. "In a way, she publicly announced: 'This is me.' It was her first public appearance, her first performance, her first introduction as Mariko."
As her pageant performance ended, the crowd erupted in thunderous applause. "Once more! Once more! Once more!" they cheered.
"Before the Miss Tibet pageant, people were seeing her in the street, thinking, 'Who is this man looking feminine?'" Wangyal says. "This performance, which she prepared very well for, played a major role in her acceptance as transgender in the Tibetan community."
Mariko, now 23, lives in Dharamshala, the seat of the Tibetan government-in-exile, where she is considered a hero and an LGBT icon. She is good-humoured and genuinely excited about life, says Nonita Kalra, former editor-in-chief of Harper's Bazaar India, which published an article about Mariko in 2017.
"She had us completely enthralled, making jokes about her hair, saying of course it's beautiful; they shaved it so many times, it had to grow back thicker," Kalra says.
Mariko never complains about how hard her life has been, Kalra adds. "And she's been beaten a lot."
Mariko first discovered make-up when she was a child in the monastery. She found reasons to wear it even during prayers, she says. In 2014, for a friend's wedding, she put on women's clothes for the first time. It was August 15, India's Independence Day, and earlier that morning Mariko had been to Delhi's Malviya Nagar market to buy wigs, heels and a gown.
"I literally had no hair and I was bald," she says. "I put on false lashes and I'm really tall, so I wore sandals. I thought that with all of that on, they wouldn't recognise me."
But her dancing caught the attention of someone at the party and by the next morning a video of her swinging her hips was going viral on WeChat, garnering thousands of views.
Worse still, people knew it was Mariko. It was the person they saw wearing red robes all day, every day – the man, the monk.
Mariko vehemently denied it was her in the video, but when her parents called to say they had recognised her, the charade was over.
The video marked a before-and-after moment for Mariko. She went into hiding at a cousin's house, where she fielded calls from people asking if it had been her in the video. It was scary, she says.
"My gurus were calling me, saying that if this is you it's really bad for the religion, and you cannot be a monk and do such things."
Hatred and threats of physical violence followed, and Mariko descended into depression. The conservative Tibetan community in Dharamshala wasn't sure how to deal with the revelation that one of their boys was a woman. In 2014, the word "transgender" was not widely known or understood locally, and the famed American transgender television personality Caitlyn Jenner had yet to make her appearance on the global stage.
Mariko's journey was made additionally challenging, Wangyal says, because the Tibetan community in India was formed in exile, and created to protect the culture China was trying to destroy.
"On the one hand, we have the traditionalists who say Tibetans should have a certain kind of tradition, a certain kind of look," he says. "But the risk-takers feel they need to evolve. Whether it's songs or Tibetan Buddhism or language, a culture cannot remain static."
After Mariko decided to come out publicly, she met up with Wangyal and auditioned to perform at the Miss Tibet 2015 pageant. With that one performance, everything changed. "She rose to instant stardom that night," Wangyal says.
Once ostracised, today Mariko is recognised and supported by organisations such as the Tibetan Women's Association and the Tibetan Youth Congress, both of which have invited her to speak at their events. She has been granted private audiences with esteemed Buddhist leaders, including the Karmapa, the second highest ranking guru in Tibetan Buddhism after the Dalai Lama, and she has spoken about her life's journey on the TEDx stage.
A few years after Mariko publicly came out, she and her mother attended a teaching given by the Dalai Lama. Walking out of the temple, her mother close behind her, Mariko saw a nun nudge another, point to Mariko and utter a slur. Before she could even react, Mariko's mother had whipped around and begun yelling at the nun. "I know my daughter," she shouted. "I know who she is and you have no right to say such disgusting words to her."
Mariko pulled her mum away, and at the restaurant where they'd stopped for lunch, both mother and daughter found they had no appetite.
As her mother cried, Mariko reminded her that more people respected and loved her than bullied her. "If you can be strong," she told her mother, "I can be stronger."
It was a turning point in their relationship, because it was one of the first times that her mother had called her a daughter in public, and she hadn't hesitated to do so.
Mariko says she doesn't react to hurtful words or insults thrown at her because of a compassion borne out of her deep Buddhist roots.
"They are not wrong," she says of people who comment on her gender in insulting or hurtful ways. "I was a boy, that is true, and now I am a girl. That is true, too."