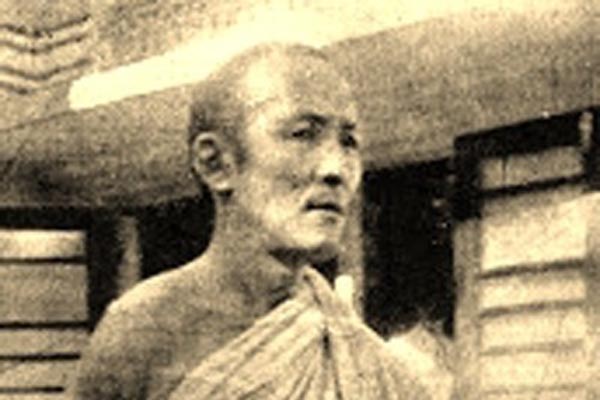 By Laden Tshering Samdup
KATHMANDU, Nepal, 24 October 2016
Many would be surprised to hear that a Tibetan had become a Theravada monk. They would perhaps be more surprised to learn that he was a much-adulated freedom fighter of Sri Lanka, officially declared a National Hero, and given a state funeral upon his death. He was also considered a sacred Buddhist figure, and his ashes kept in a pot which still hangs on the roof of Maha Bellana temple in Sri Lanka. His statue adorns a temple in Panadura and the Sri Lankan government issued his commemorative postal stamp in the early 1970s. This Tibetan was known in Sri Lanka as Venerable Tibet Jathika S Mahinda Himi.
He was born Pemba Thendup or Sarki Tshering in Gangtok Sikkim in 1901, and was the scion of the Guru Tashi clan of Minyak House of East Tibet which migrated and settled in Sikkim in 13th century CE. He was the youngest stepbrother of Kazi Dawa Samdup, an illustrious figure in Tibetan Buddhism.
At the age of 12, Pemba was sent to Sri Lanka to study Theravada Buddhism, probably as a forerunner to the Government of Sikkim's plan to reform Buddhism in the country and introduce the stricter form of Hinayana Buddhism. He arrived in Sri Lanka in 1914 and was initiated as a novice monk by German monk Nyanatiloka in the Amarapura sect of Theravada Buddhism in the Island Hermitage. However World War I soon broke out, and he was incarcerated by the British along with his German guru, but later released.
At the end of WWI, he was ordained a full monk in Saraswati Mandapa Pirivena under the tutelage of Ratgama Siri Culasumana. His brilliance in Dharma academics, felicity with the Pali, Sanskrit, English, and Sinhala languages, and brilliant oratory skills and religious discourses enabled him to pursue his learning in Sri Lanka's academies of excellence in Theravada Buddhism — the monasteries in Saugatavasa and Purana Rajamaha Vihara — under Buddhist icons of the time, Makada Dhirananda Thero and Dharmarama Indrajyoti Nayaka Thero. He was awarded the title of 'Wahala Naga'.
He is also remembered for his work of translating numerous Buddhist texts written in Sanskrit into Sinhala language. His Holiness the Dalai Lama says "those who studied the Buddhist texts in Pali are senior students of the Buddha Dharma."
Pemba Thendup was also an active social worker and renovated the Sri Sudharnarama Temple in Maha Bellana, adding a new hostel building for the monks, and starting the Sunday Dhhama School and dispensary for the local populace. He led the Temperance Movement in that area, prohibiting the sale and consumption of liquor. He organized a gigantic march of oxen through the town streets to dissuade people from eating beef.
However he is remembered and respected more for his role in the independence movement of Sri Lanka than for his religious and social work.
The Matalle rebellion of 1848 was the first independence movement of Sri Lanka against the British colonial rule, but it was crushed brutally. The Sri Lankan freedom fighters were left disenchanted and dispirited, many even beginning to support the colonial rulers. Seeing this disastrous turn of events, Pemba Thendup used his writing skills to write poems and verses to inspire and rekindle the spirit of freedom and patriotism amongst the people. His fiery writings are said to have taken the freedom struggle to new heights. He wrote more than 40 books, many of them for children. Some of these books have now been included in the school curriculum in Sri Lanka and many are remembered by heart to this day by the Sri Lankans.
Pemba Thendup throughout his stay in Sri Lanka identified himself as a Tibetan and preferred to write his name as S Mahinda only. He died in 1951 after the country had gained independence in 1948. S Mahinda probably intentionally identified himself as a Tibetan because his forefathers were from the Kham region of Tibet, and as a Lama or monk in his own country all his scholastic erudition would have been in classical Tibetan language. As a Tibetan therefore he would have held His Holiness the Dalai Lama in highest esteem and considered him his spiritual leader. Ironically his spiritual guru is today denied entry in the very land and by the very people to whom he gave independence and unshackled from the colonial rule of the British Empire.
We can only hope that in the near future, the Sri Lankan government and people as a token of their appreciation to Venerable S Malinda aka Pemba Thendup will reconsider their decision and grant visa to His Holiness the Dalai Lama to enable him to fulfill his long-cherished desire to pay homage to the holy relics of Gautama Buddha's tooth and the sacred tree in Mahabodhi considered a descendant of the tree under which Gautama Buddha gained enlightenment.
Freedom is like the ocean, and you, dear son, are the fountain of it. Keep that in mind, and try to fulfill the duty of protecting your motherland from various challenges.

Ven S Mahinda (1901-1951)
The above words were penned by a Tibetan for Sri Lankan freedom fighters not long ago, perhaps never realising that they would one day be of appeal to the Tibetans themselves.