ElectionsSikyong 2021: Final round results by location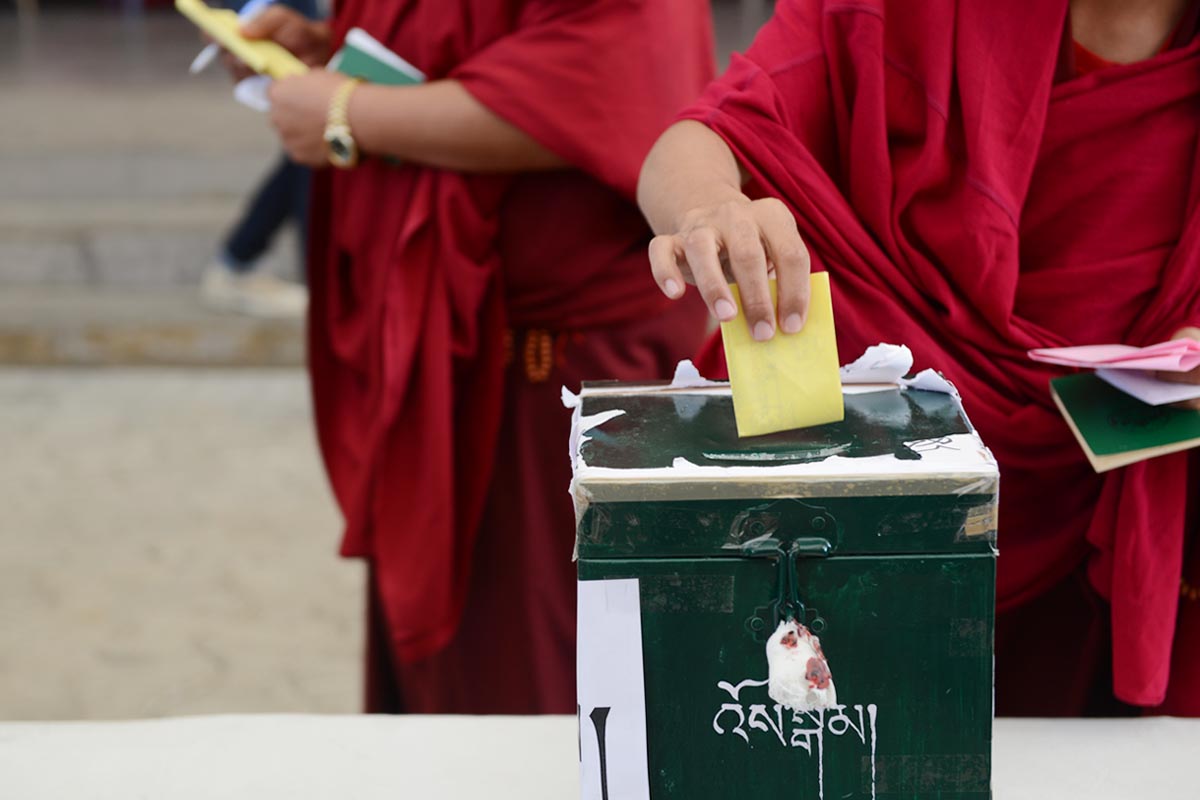 Exile Tibetans around the world cast their ballots on Sunday 11 April to elect a Sikyong of Central Tibetan Administration and members of the Tibetan Parliament-in-exile. Polling was carried out at 85 different places around the world.
The official election result will be announced by the Election Commission on 14 May. Here are the Sikyong results that Tibet Sun collected after they had been announced at the respective locality.
Click here to see latest results and who's leading.
Results by location
Australasia (Canberra, Australia)

Result published on 12 April 2021 21:0098 IST.

(This is a subtotal of the Australasia results. It is not counted in the results summary above.)

Penpa Tsering

64

Kelsang Dorjee Aukatsang

29
Australasia (Japan)

Result published on 12 April 2021 21:09 IST.

(This is a subtotal of the Australasia results. It is not counted in the results summary above.)

Penpa Tsering

22

Kelsang Dorjee Aukatsang

19
Australasia (Taiwan)

Result published on 12 April 2021 21:09 IST.

(This is a subtotal of the Australasia results. It is not counted in the results summary above.)

Kelsang Dorjee Aukatsang

55

Penpa Tsering

29
Australasia (total): Australia, New Zealand, and rest of Asia

Result published on 13 April 2021 11:34 IST.

Penpa Tsering

919

Kelsang Dorjee Aukatsang

614
Europe (Austria)

Result published on 13 April 2021 19:58 IST.

(This is a subtotal of the Europe results. It is not counted in the results summary above.)

Penpa Tsering

106

Kelsang Dorjee Aukatsang

62
Europe (Belgium)

Result published on 14 April 2021 16:28 IST.

(This is a subtotal of the Europe results. It is not counted in the results summary above.)

Penpa Tsering

1789

Kelsang Dorjee Aukatsang

1719
Europe (Denmark)

Result published on 12 April 2021 21:16 IST.

(This is a subtotal of the Europe results. It is not counted in the results summary above.)

Kelsang Dorjee Aukatsang

8

Penpa Tsering

5
Europe (France)

Result published on 13 April 2021 19:22 IST.

(This is a subtotal of the Europe results. It is not counted in the results summary above.)

Penpa Tsering

930

Kelsang Dorjee Aukatsang

697
Europe (Germany)

Result published on 13 April 2021 21:30 IST.

(This is a subtotal of the Europe results. It is not counted in the results summary above.)

Penpa Tsering

153

Kelsang Dorjee Aukatsang

123
Europe (Ireland)

Result published on 12 April 2021 21:21 IST.

(This is a subtotal of the Europe results. It is not counted in the results summary above.)

Penpa Tsering

14

Kelsang Dorjee Aukatsang

10
Europe (Italy)

Result published on 13 April 2021 21:30 IST.

(This is a subtotal of the Europe results. It is not counted in the results summary above.)

Penpa Tsering

50

Kelsang Dorjee Aukatsang

37
Europe (Norway)

Result published on 14 April 2021 4:03 IST.

(This is a subtotal of the Europe results. It is not counted in the results summary above.)

Kelsang Dorjee Aukatsang

29

Penpa Tsering

3
Europe (Poland)

Result published on 14 April 2021 4:08 IST.

(This is a subtotal of the Europe results. It is not counted in the results summary above.)

Penpa Tsering

5

Kelsang Dorjee Aukatsang

4
Europe (Sweden)

Result published on 14 April 2021 4:08 IST.

(This is a subtotal of the Europe results. It is not counted in the results summary above.)

Penpa Tsering

16

Kelsang Dorjee Aukatsang

11
Europe (Switzerland)

Result published on 13 April 2021 21:30 IST.

(This is a subtotal of the Europe results. It is not counted in the results summary above.)

Kelsang Dorjee Aukatsang

1615

Penpa Tsering

1553
India (Bangalore & southern cities)

Result published on 13 April 2021 19:32 IST.

(This is a subtotal of the India results. It is not counted in the results summary above.)

Penpa Tsering

428

Kelsang Dorjee Aukatsang

292
India (Bhandara)

Result published on 14 April 2021 13:51 IST.

(This is a subtotal of the India results. It is not counted in the results summary above.)

Penpa Tsering

215

Kelsang Dorjee Aukatsang

114
India (Bir: BTS Bhoetsog)

Result published on 14 April 2021 11:14 IST.

(This is a subtotal of the India results. It is not counted in the results summary above.)

Kelsang Dorjee Aukatsang

186

Penpa Tsering

183
India (Bir: Dege)

Result published on 12 April 2021 21:26 IST.

Updated on 14 April 2021 14:53 IST

(This is a subtotal of the India results. It is not counted in the results summary above.)

Kelsang Dorjee Aukatsang

560

Penpa Tsering

180
India (Bodh Gaya)

Result published on 12 April 2021 21:20 IST.

(This is a subtotal of the India results. It is not counted in the results summary above.)

Penpa Tsering

41

Kelsang Dorjee Aukatsang

11
India (Bomdila)

Result published on 14 April 2021 13:23 IST.

(This is a subtotal of the India results. It is not counted in the results summary above.)

Kelsang Dorjee Aukatsang

92

Penpa Tsering

89
India (Bylakuppe: Delar)

Result published on 14 April 2021 17:47 IST.

(This is a subtotal of the India results. It is not counted in the results summary above.)

Penpa Tsering

985

Kelsang Dorjee Aukatsang

239
India (Bylakuppe: Lugsam)

Result published on 14 April 2021 16:28 IST.

Updated on 14 April 2021 17:58 IST

(This is a subtotal of the India results. It is not counted in the results summary above.)

Kelsang Dorjee Aukatsang

2167

Penpa Tsering

1780
India (Chauntra)

Result published on 13 April 2021 4:33 IST.

(This is a subtotal of the India results. It is not counted in the results summary above.)

Kelsang Dorjee Aukatsang

240

Penpa Tsering

81
India (Dalhousie)

Result published on 15 April 2021 14:57 IST.

(This is a subtotal of the India results. It is not counted in the results summary above.)

Penpa Tsering

110

Kelsang Dorjee Aukatsang

63
India (Darjeeling)

Result published on 13 April 2021 4:03 IST.

(This is a subtotal of the India results. It is not counted in the results summary above.)

Penpa Tsering

557

Kelsang Dorjee Aukatsang

304
India (Dehra Dun)

Result published on 13 April 2021 3:35 IST.

(This is a subtotal of the India results. It is not counted in the results summary above.)

Penpa Tsering

1743

Kelsang Dorjee Aukatsang

1157
India (Delhi)

Result published on 14 April 2021 15:31 IST.

(This is a subtotal of the India results. It is not counted in the results summary above.)

Penpa Tsering

818

Kelsang Dorjee Aukatsang

600
India (Dharamshala)

Result published on 14 April 2021 11:33 IST.

Update 2: 14 April 2021 2:44 IST

(This is a subtotal of the India results. It is not counted in the results summary above.)

Penpa Tsering

3425

Kelsang Dorjee Aukatsang

1933
India (Dharamshala: Gangkyi)

Result published on 14 April 2021 11:34 IST.

(This is a subtotal of the India results. It is not counted in the results summary above.)

Penpa Tsering

568

Kelsang Dorjee Aukatsang

214
India (Dimapur)

Result published on 13 April 2021 20:07 IST.

(This is a subtotal of the India results. It is not counted in the results summary above.)

Penpa Tsering

80

Kelsang Dorjee Aukatsang

52
India (Dolanji)

Result published on 15 April 2021 14:57 IST.

(This is a subtotal of the India results. It is not counted in the results summary above.)

Kelsang Dorjee Aukatsang

105

Penpa Tsering

98
India (Herbertpur)

Result published on 14 April 2021 16:28 IST.

(This is a subtotal of the India results. It is not counted in the results summary above.)

Penpa Tsering

260

Kelsang Dorjee Aukatsang

184
India (Hunsur)

Result published on 13 April 2021 3:56 IST.

Updated on 14 April 10:33 IST

(This is a subtotal of the India results. It is not counted in the results summary above.)

Penpa Tsering

666

Kelsang Dorjee Aukatsang

451
India (Kalimpong)

Result published on 13 April 2021 18:43 IST.

(This is a subtotal of the India results. It is not counted in the results summary above.)

Penpa Tsering

464

Kelsang Dorjee Aukatsang

308
India (Kollegal)

Result published on 13 April 2021 4:33 IST.

(This is a subtotal of the India results. It is not counted in the results summary above.)

Penpa Tsering

790

Kelsang Dorjee Aukatsang

665
India (Kullu: Kullu, Manali, Dobhi)

Result published on 13 April 2021 4:22 IST.

(This is a subtotal of the India results. It is not counted in the results summary above.)

Penpa Tsering

411

Kelsang Dorjee Aukatsang

202
India (Kumrao)

Result published on 13 April 2021 19:02 IST.

(This is a subtotal of the India results. It is not counted in the results summary above.)

Penpa Tsering

34

Kelsang Dorjee Aukatsang

29
India (Ladakh)

Result published on 13 April 2021 19:24 IST.

(This is a subtotal of the India results. It is not counted in the results summary above.)

Kelsang Dorjee Aukatsang

1241

Penpa Tsering

1236
India (Mainpat)

Result published on 13 April 2021 20:26 IST.

(This is a subtotal of the India results. It is not counted in the results summary above.)

Penpa Tsering

282

Kelsang Dorjee Aukatsang

161
India (Mandi: Mandi/Tso/Pandoh)

Result published on 14 April 2021 10:26 IST.

(This is a subtotal of the India results. It is not counted in the results summary above.)

Kelsang Dorjee Aukatsang

184

Penpa Tsering

106
India (Miao)

Result published on 13 April 2021 18:23 IST.

(This is a subtotal of the India results. It is not counted in the results summary above.)

Kelsang Dorjee Aukatsang

528

Penpa Tsering

308
India (Mundgod)

Result published on 14 April 2021 12:01 IST.

(This is a subtotal of the India results. It is not counted in the results summary above.)

Kelsang Dorjee Aukatsang

2560

Penpa Tsering

2278
India (Nainital)

Result published on 14 April 2021 11:32 IST.

(This is a subtotal of the India results. It is not counted in the results summary above.)

Penpa Tsering

48

Kelsang Dorjee Aukatsang

38
India (Orissa)

Result published on 14 April 2021 11:56 IST.

(This is a subtotal of the India results. It is not counted in the results summary above.)

Penpa Tsering

507

Kelsang Dorjee Aukatsang

222
India (Paonta Sahib)

Result published on 14 April 2021 21:53 IST.

(This is a subtotal of the India results. It is not counted in the results summary above.)

Penpa Tsering

165

Kelsang Dorjee Aukatsang

104
India (Sataun)

Result published on 14 April 2021 13:51 IST.

(This is a subtotal of the India results. It is not counted in the results summary above.)

Kelsang Dorjee Aukatsang

48

Penpa Tsering

28
India (Shillong)

Result published on 13 April 2021 20:03 IST.

(This is a subtotal of the India results. It is not counted in the results summary above.)

Kelsang Dorjee Aukatsang

140

Penpa Tsering

89
India (Shimla)

Result published on 13 April 2021 18:46 IST.

(This is a subtotal of the India results. It is not counted in the results summary above.)

Penpa Tsering

278

Kelsang Dorjee Aukatsang

145
India (Sikkim: Gangtok)

Result published on 13 April 2021 11:47 IST.

(This is a subtotal of the India results. It is not counted in the results summary above.)

Penpa Tsering

789

Kelsang Dorjee Aukatsang

324
India (Sikkim: Ravangla)

Result published on 13 April 2021 1:02 IST.

(This is a subtotal of the India results. It is not counted in the results summary above.)

Penpa Tsering

238

Kelsang Dorjee Aukatsang

122
India (Sonada)

Result published on 13 April 2021 20:10 IST.

(This is a subtotal of the India results. It is not counted in the results summary above.)

Penpa Tsering

99

Kelsang Dorjee Aukatsang

77
India (Tashi Jong)

Result published on 14 April 2021 12:07 IST.

(This is a subtotal of the India results. It is not counted in the results summary above.)

Kelsang Dorjee Aukatsang

191

Penpa Tsering

19
India (Tawang)

Result published on 13 April 2021 12:55 IST.

(This is a subtotal of the India results. It is not counted in the results summary above.)

Kelsang Dorjee Aukatsang

60

Penpa Tsering

54
India (Tenzin Gang)

Result published on 14 April 2021 12:25 IST.

(This is a subtotal of the India results. It is not counted in the results summary above.)

Penpa Tsering

137

Kelsang Dorjee Aukatsang

111
India (Tezu)

Result published on 13 April 2021 21:33 IST.

(This is a subtotal of the India results. It is not counted in the results summary above.)

Kelsang Dorjee Aukatsang

195

Penpa Tsering

194
India (Tuting)

Result published on 13 April 2021 3:15 IST.

(This is a subtotal of the India results. It is not counted in the results summary above.)

Kelsang Dorjee Aukatsang

159

Penpa Tsering

122
India (Varanasi)

Result published on 14 April 2021 10:22 IST.

(This is a subtotal of the India results. It is not counted in the results summary above.)

Penpa Tsering

97

Kelsang Dorjee Aukatsang

61
Nepal (Boudha)

Result published on 14 April 2021 4:11 IST.

(This is a subtotal of the Nepal results. It is not counted in the results summary above.)

Penpa Tsering

1103

Kelsang Dorjee Aukatsang

638
Nepal (Gyalsa/Pakshing)

Result published on 15 April 2021 14:54 IST.

(This is a subtotal of the Nepal results. It is not counted in the results summary above.)

Kelsang Dorjee Aukatsang

406

Penpa Tsering

379
Nepal (Jawalakhel)

Result published on 15 April 2021 14:54 IST.

(This is a subtotal of the Nepal results. It is not counted in the results summary above.)

Kelsang Dorjee Aukatsang

203

Penpa Tsering

151
Nepal (Pokhara: Lodrik)

Result published on 14 April 2021 10:57 IST.

(This is a subtotal of the Nepal results. It is not counted in the results summary above.)

Kelsang Dorjee Aukatsang

163

Penpa Tsering

132
Nepal (Pokhara: Tashiling)

Result published on 15 April 2021 17:13 IST.

(This is a subtotal of the Nepal results. It is not counted in the results summary above.)

Penpa Tsering

135

Kelsang Dorjee Aukatsang

117
Nepal (Sha/Wa/Ra Settlements)

Result published on 14 April 2021 14:10 IST.

(This is a subtotal of the Nepal results. It is not counted in the results summary above.)

Penpa Tsering

370

Kelsang Dorjee Aukatsang

169
Nepal (Tashi Palkhiel)

Result published on 14 April 2021 10:22 IST.

(This is a subtotal of the Nepal results. It is not counted in the results summary above.)

Penpa Tsering

175

Kelsang Dorjee Aukatsang

125
North America (Canada, British Columbia - Vancouver)

Result published on 12 April 2021 21:00 IST.

Updated on 17 April 2021 10:03 IST

(This is a subtotal of the North America results. It is not counted in the results summary above.)

Kelsang Dorjee Aukatsang

77

Penpa Tsering

73
North America (Canada: Alberta - Calgary)

Result published on 17 April 2021 11:01 IST.

(This is a subtotal of the North America results. It is not counted in the results summary above.)

Penpa Tsering

134

Kelsang Dorjee Aukatsang

112
North America (Canada: Ottawa)

Result published on 17 April 2021 11:01 IST.

(This is a subtotal of the North America results. It is not counted in the results summary above.)

Penpa Tsering

20

Kelsang Dorjee Aukatsang

16
North America (Canada: Québec - Montréal)

Result published on 17 April 2021 11:01 IST.

(This is a subtotal of the North America results. It is not counted in the results summary above.)

Penpa Tsering

35

Kelsang Dorjee Aukatsang

19
North America (Canada: Toronto)

Result published on 15 April 2021 15:02 IST.

(This is a subtotal of the North America results. It is not counted in the results summary above.)

Kelsang Dorjee Aukatsang

1261

Penpa Tsering

1051
North America (Canada: Victoria - Vancouver Island)

Result published on 17 April 2021 11:01 IST.

(This is a subtotal of the North America results. It is not counted in the results summary above.)

Kelsang Dorjee Aukatsang

20

Penpa Tsering

12
North America (US/Canada Total)

Result published on 17 April 2021 11:01 IST.

Penpa Tsering

6104

Kelsang Dorjee Aukatsang

5747
North America (United States: California - San Francisco)

Result published on 14 April 2021 4:09 IST.

Updated on 17 April 2021 10:03 IST

(This is a subtotal of the North America results. It is not counted in the results summary above.)

Penpa Tsering

565

Kelsang Dorjee Aukatsang

357
North America (United States: California - So. Calif.

Result published on 17 April 2021 10:35 IST.

(This is a subtotal of the North America results. It is not counted in the results summary above.)

Penpa Tsering

53

Kelsang Dorjee Aukatsang

44
North America (United States: Colorado)

Result published on 14 April 2021 20:25 IST.

(This is a subtotal of the North America results. It is not counted in the results summary above.)

Penpa Tsering

87

Kelsang Dorjee Aukatsang

85
North America (United States: Connecticut)

Result published on 17 April 2021 10:17 IST.

(This is a subtotal of the North America results. It is not counted in the results summary above.)

Kelsang Dorjee Aukatsang

189

Penpa Tsering

58
North America (United States: Georgia - Atlanta)

Result published on 17 April 2021 10:55 IST.

(This is a subtotal of the North America results. It is not counted in the results summary above.)

Penpa Tsering

21

Kelsang Dorjee Aukatsang

18
North America (United States: Illinois - Chicago)

Result published on 17 April 2021 10:35 IST.

(This is a subtotal of the North America results. It is not counted in the results summary above.)

Kelsang Dorjee Aukatsang

79

Penpa Tsering

48
North America (United States: Indiana/Kentucky/Ohio)

Result published on 17 April 2021 10:45 IST.

(This is a subtotal of the North America results. It is not counted in the results summary above.)

Penpa Tsering

26

Kelsang Dorjee Aukatsang

8
North America (United States: Massachusetts - Amherst)

Result published on 17 April 2021 10:35 IST.

(This is a subtotal of the North America results. It is not counted in the results summary above.)

Penpa Tsering

58

Kelsang Dorjee Aukatsang

41
North America (United States: Massachusetts - Boston)

Result published on 14 April 2021 4:10 IST.

Updated on 17 April 2021 10:03 IST

(This is a subtotal of the North America results. It is not counted in the results summary above.)

Penpa Tsering

266

Kelsang Dorjee Aukatsang

205
North America (United States: Michigan)

Result published on 17 April 2021 10:55 IST.

(This is a subtotal of the North America results. It is not counted in the results summary above.)

Kelsang Dorjee Aukatsang

11

Penpa Tsering

3
North America (United States: Minnesota)

Result published on 14 April 2021 9:40 IST.

(This is a subtotal of the North America results. It is not counted in the results summary above.)

Penpa Tsering

679

Kelsang Dorjee Aukatsang

493
North America (United States: Montana)

Result published on 17 April 2021 10:55 IST.

(This is a subtotal of the North America results. It is not counted in the results summary above.)

Penpa Tsering

9

Kelsang Dorjee Aukatsang

4
North America (United States: New Mexico - Albuquerque)

Result published on 17 April 2021 10:55 IST.

(This is a subtotal of the North America results. It is not counted in the results summary above.)

Penpa Tsering

23

Kelsang Dorjee Aukatsang

2
North America (United States: New Mexico - Santa Fe)

Result published on 17 April 2021 10:45 IST.

(This is a subtotal of the North America results. It is not counted in the results summary above.)

Penpa Tsering

33

Kelsang Dorjee Aukatsang

31
North America (United States: New York - Ithaca)

Result published on 17 April 2021 10:45 IST.

(This is a subtotal of the North America results. It is not counted in the results summary above.)

Kelsang Dorjee Aukatsang

27

Penpa Tsering

24
North America (United States: New York/New Jersey)

Result published on 14 April 2021 9:42 IST.

(This is a subtotal of the North America results. It is not counted in the results summary above.)

Penpa Tsering

2090

Kelsang Dorjee Aukatsang

1871
North America (United States: Oregon - Portland)

Result published on 17 April 2021 10:11 IST.

(This is a subtotal of the North America results. It is not counted in the results summary above.)

Kelsang Dorjee Aukatsang

182

Penpa Tsering

175
North America (United States: Pennsylviania - Philadelphia)

Result published on 17 April 2021 10:45 IST.

(This is a subtotal of the North America results. It is not counted in the results summary above.)

Kelsang Dorjee Aukatsang

62

Penpa Tsering

28
North America (United States: Texas - Austin)

Result published on 17 April 2021 10:55 IST.

(This is a subtotal of the North America results. It is not counted in the results summary above.)

Penpa Tsering

19

Kelsang Dorjee Aukatsang

16
North America (United States: Utah)

Result published on 17 April 2021 10:35 IST.

(This is a subtotal of the North America results. It is not counted in the results summary above.)

Kelsang Dorjee Aukatsang

91

Penpa Tsering

83
North America (United States: Vermont)

Result published on 17 April 2021 10:35 IST.

(This is a subtotal of the North America results. It is not counted in the results summary above.)

Penpa Tsering

53

Kelsang Dorjee Aukatsang

36
North America (United States: Virginia - Charlottesville)

Result published on 17 April 2021 10:45 IST.

(This is a subtotal of the North America results. It is not counted in the results summary above.)

Kelsang Dorjee Aukatsang

42

Penpa Tsering

17
North America (United States: Washington - Seattle)

Result published on 17 April 2021 10:17 IST.

(This is a subtotal of the North America results. It is not counted in the results summary above.)

Kelsang Dorjee Aukatsang

84

Penpa Tsering

65
North America (United States: Washington DC)

Result published on 17 April 2021 10:11 IST.

(This is a subtotal of the North America results. It is not counted in the results summary above.)

Penpa Tsering

117

Kelsang Dorjee Aukatsang

95
North America (United States: Wisconsin - Madison)

Result published on 17 April 2021 10:11 IST06.

(This is a subtotal of the North America results. It is not counted in the results summary above.)

Penpa Tsering

179

Kelsang Dorjee Aukatsang

169
North America (United States: Wisconsin)

Result published on 15 April 2021 15:02 IST.

(This is a subtotal of the North America results. It is not counted in the results summary above.)

Penpa Tsering

179

Kelsang Dorjee Aukatsang

169
United Kingdom (England/Scotland/Wales)

Result published on 14 April 2021 4:02 IST.

(This is a subtotal of the United Kingdom results. It is not counted in the results summary above.)

Penpa Tsering

115

Kelsang Dorjee Aukatsang

99
Leave a comment: