ElectionsSikyong 2016: Final round results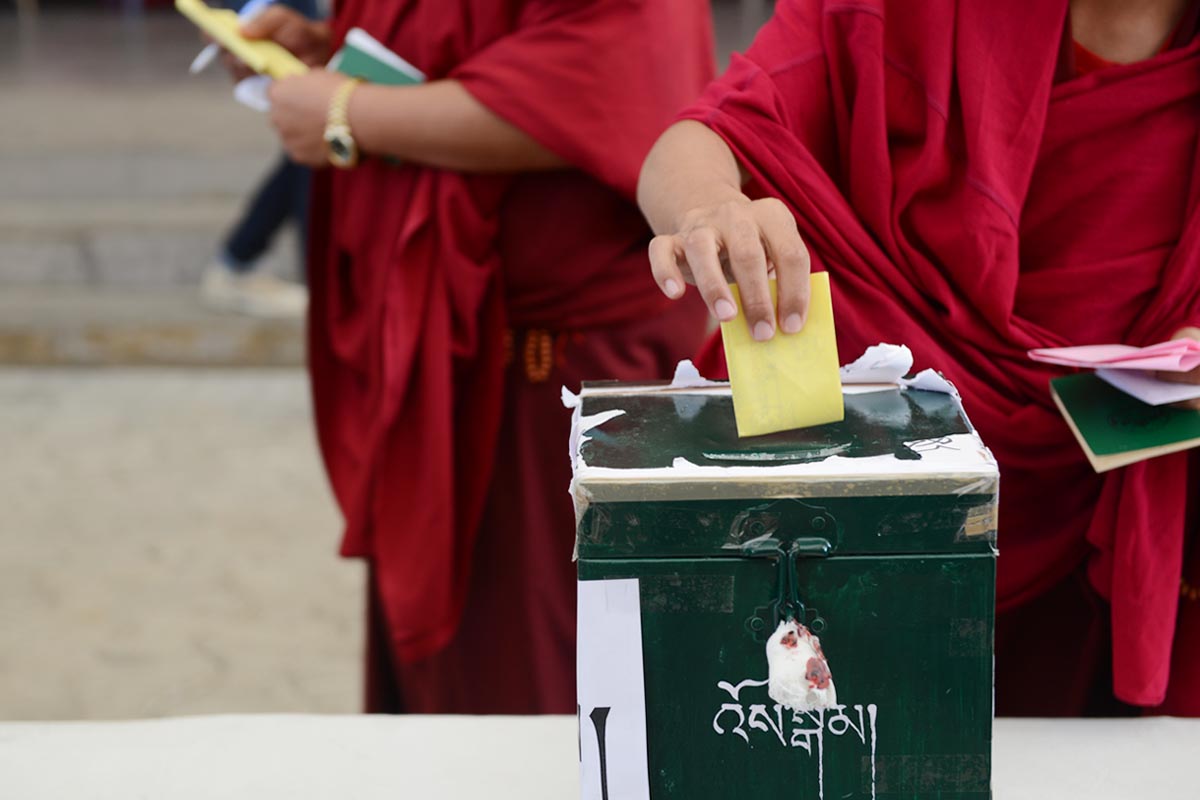 As the curtain of the exile Tibetan elections comes down on 28 March with 100% of the ballots counted, incumbent Sikyong Lobsang Sangay has won the Sikyong 2016 election. He is ahead with 57.3% of the votes, beating rival Penpa Tsering by about 8,000 votes, and will now remain at the top post for another five years.
Exile Tibetans around the world cast their ballots on 20 March to elect a Sikyong of Central Tibetan Administration and members of the Tibetan Parliament-in-exile on Sunday. Polling was carried out at 85 different places around the world.
The official election result will be announced by the Election Commission on 27 April. Here are the Sikyong results that Tibet Sun collected after they had been announced at the respective locality.
Summary of the results
Updated 16 August 2021 12:28 pm IST
| | |
| --- | --- |
| Lobsang Sangay | 33,234 |
| Penpa Tsering | 24,752 |
| Total: | 57,986 |
Results by location
Australasia (Adelaide, Australia)

Result published on 20 March.

(This is a subtotal of the Australasia results. It is not counted in the results summary above.)

Lobsang Sangay

12

Penpa Tsering

4
Australasia (Auckland, New Zealand)

Result published on 22 March.

(This is a subtotal of the Australasia results. It is not counted in the results summary above.)

Lobsang Sangay

11

Penpa Tsering

4
Australasia (Brisbane, Australia)

Result published on 20 March.

(This is a subtotal of the Australasia results. It is not counted in the results summary above.)

Penpa Tsering

22

Lobsang Sangay

16
Australasia (Canberra, Australia)

Result published on 20 March.

(This is a subtotal of the Australasia results. It is not counted in the results summary above.)

Penpa Tsering

35

Lobsang Sangay

20
Australasia (Japan)

Result published on 20 March.

(This is a subtotal of the Australasia results. It is not counted in the results summary above.)

Lobsang Sangay

34

Penpa Tsering

19
Australasia (Melbourne, Australia)

Result published on 20 March.

(This is a subtotal of the Australasia results. It is not counted in the results summary above.)

Lobsang Sangay

122

Penpa Tsering

93
Australasia (Newcastle, Australia)

Result published on 20 March.

(This is a subtotal of the Australasia results. It is not counted in the results summary above.)

Penpa Tsering

16

Lobsang Sangay

4
Australasia (Sydney, Australia)

Result published on 20 March.

(This is a subtotal of the Australasia results. It is not counted in the results summary above.)

Penpa Tsering

266

Lobsang Sangay

236
Australasia (Taiwan)

Result published on 20 March.

Updated on 21 March

(This is a subtotal of the Australasia results. It is not counted in the results summary above.)

Lobsang Sangay

63

Penpa Tsering

30
Australasia (Whangarei, New Zealand)

Result published on 20 March.

Update 2: 28 March

(This is a subtotal of the Australasia results. It is not counted in the results summary above.)

Note: Corrected Hungary to Whangarei

Lobsang Sangay

8

Penpa Tsering

0
Australasia (overall)

Result published on 20 March.

Update 2: 22 March

Lobsang Sangay

518

Penpa Tsering

489
Bangalore (South zone)

Result published on 21 March.

Note: Includes seven locations: Bangalore City, Dalai Lama College, Mysore, Mangalore, Andra Pradesh, Chennai and Ooty.

Penpa Tsering

452

Lobsang Sangay

435
Bhandara

Result published on 22 March.

Penpa Tsering

182

Lobsang Sangay

162
Bir (BTS)

Result published on 22 March.

Lobsang Sangay

320

Penpa Tsering

171
Bir (Dege and Nangchen)

Result published on 22 March.

Lobsang Sangay

563

Penpa Tsering

97
Bodh Gaya

Result published on 21 March.

Lobsang Sangay

60

Penpa Tsering

45
Bomdila and Tenzin Gang

Result published on 22 March.

Lobsang Sangay

278

Penpa Tsering

152
Bylakuppe (Deki Larso)

Result published on 21 March.

Penpa Tsering

758

Lobsang Sangay

343
Bylakuppe (Lugsam)

Result published on 21 March.

Lobsang Sangay

2621

Penpa Tsering

1501
Dalhousie

Result published on 22 March.

Lobsang Sangay

95

Penpa Tsering

77
Darjeeling

Result published on 21 March.

Lobsang Sangay

538

Penpa Tsering

478
Dehra Dun

Result published on 21 March.

Note: Includes Deki Ling, Mussoorie, Rajpur, and Clementown.

Lobsang Sangay

1566

Penpa Tsering

1088
Delhi

Result published on 22 March.

Note: Gurgaon, Lajpat Nagar, Majnu ka Tilla, Noida

Lobsang Sangay

971

Penpa Tsering

814
Dharamshala

Result published on 25 March.

Penpa Tsering

3116

Lobsang Sangay

2627
Dimapur

Result published on 20 March.

Penpa Tsering

61

Lobsang Sangay

49
Europe (Austria, Germany, Italy, Switzerland)

Result published on 21 March.

Updated on 21 March

Lobsang Sangay

1979

Penpa Tsering

1181
Europe (Belgium, France, the Netherlands, Spain)

Result published on 26 March.

Lobsang Sangay

1269

Penpa Tsering

837
Europe (England, Denmark, Norway)

Result published on 25 March.

Updated on 27 March

Lobsang Sangay

100

Penpa Tsering

58
Gangtok

Result published on 21 March.

Penpa Tsering

650

Lobsang Sangay

604
Hunsur

Result published on 21 March.

Penpa Tsering

597

Lobsang Sangay

498
Kalimpong

Result published on 21 March.

Penpa Tsering

455

Lobsang Sangay

245
Kohima

Result published on 20 March.

Lobsang Sangay

20

Penpa Tsering

8
Kollegal

Result published on 21 March.

Lobsang Sangay

851

Penpa Tsering

604
Kullu-Manali

Result published on 21 March.

Lobsang Sangay

328

Penpa Tsering

271
Kumrao

Result published on 22 March.

Penpa Tsering

42

Lobsang Sangay

33
Ladakh

Result published on 21 March.

Updated on 22 March

Lobsang Sangay

1780

Penpa Tsering

844
Lakhanwala

Result published on 21 March.

Lobsang Sangay

217

Penpa Tsering

158
Mainpat

Result published on 22 March.

Penpa Tsering

214

Lobsang Sangay

210
Mandi

Result published on 22 March.

Note: Includes Pondoh and Rewalsar (Tso Pema)

Lobsang Sangay

258

Penpa Tsering

97
Miao

Result published on 22 March.

Lobsang Sangay

671

Penpa Tsering

127
Mundgod

Result published on 21 March.

Lobsang Sangay

2931

Penpa Tsering

1841
Nainital

Result published on 20 March.

Penpa Tsering

45

Lobsang Sangay

41
Nepal (Dhorpatan)

Result published on 22 March.

Lobsang Sangay

87

Penpa Tsering

21
Nepal (Kathmandu)

Result published on 21 March.

Updated on 21 March

Lobsang Sangay

2048

Penpa Tsering

1464
Nepal (Pokhara Jampa Ling)

Result published on 26 March.

Lobsang Sangay

257

Penpa Tsering

91
Nepal (Pokhara Tashi Ling)

Result published on 22 March.

Lobsang Sangay

217

Penpa Tsering

63
Nepal (Pokhara Tashi Palkhiel)

Result published on 22 March.

Lobsang Sangay

218

Penpa Tsering

99
Nepal (Shawara sum)

Result published on 26 March.

Updated on 27 March

Note: includes Sharkhumbu, Walung, and Rasuwa

Penpa Tsering

438

Lobsang Sangay

125
North America (Canada, Toronto)

Result published on 27 March.

Updated on 28 March

(This is a subtotal of the North America results. It is not counted in the results summary above.)

Lobsang Sangay

1058

Penpa Tsering

548
North America (Canada, Vancouver)

Result published on 27 March.

Updated on 28 March

(This is a subtotal of the North America results. It is not counted in the results summary above.)

Lobsang Sangay

84

Penpa Tsering

28
North America (United States, Boston)

Result published on 27 March.

Updated on 28 March

(This is a subtotal of the North America results. It is not counted in the results summary above.)

Lobsang Sangay

187

Penpa Tsering

185
North America (United States, California)

Result published on 27 March.

Updated on 28 March

(This is a subtotal of the North America results. It is not counted in the results summary above.)

Lobsang Sangay

353

Penpa Tsering

317
North America (United States, Minnesota)

Result published on 27 March.

Updated on 28 March

(This is a subtotal of the North America results. It is not counted in the results summary above.)

Lobsang Sangay

439

Penpa Tsering

399
North America (United States, New York)

Result published on 27 March.

Updated on 28 March

(This is a subtotal of the North America results. It is not counted in the results summary above.)

Lobsang Sangay

1494

Penpa Tsering

1133
North America (United States, Portland)

Result published on 27 March.

(This is a subtotal of the North America results. It is not counted in the results summary above.)

Lobsang Sangay

143

Penpa Tsering

112
North America (United States, Utah)

Result published on 27 March.

Updated on 28 March

(This is a subtotal of the North America results. It is not counted in the results summary above.)

Lobsang Sangay

115

Penpa Tsering

39
North America (overall)

Result published on 28 March.

Lobsang Sangay

5059

Penpa Tsering

3482
Orissa

Result published on 21 March.

Penpa Tsering

418

Lobsang Sangay

237
Paonta Sahib

Result published on 20 March.

Lobsang Sangay

148

Penpa Tsering

127
Puruwala

Result published on 22 March.

Lobsang Sangay

212

Penpa Tsering

184
Ravangla

Result published on 22 March.

Penpa Tsering

250

Lobsang Sangay

214
Sataun (KKTS)

Result published on 22 March.

Lobsang Sangay

57

Penpa Tsering

7
Shillong

Result published on 22 March.

Lobsang Sangay

136

Penpa Tsering

70
Shimla

Result published on 21 March.

Lobsang Sangay

245

Penpa Tsering

227
Solan

Result published on 22 March.

Lobsang Sangay

98

Penpa Tsering

58
Tashi Jong

Result published on 20 March.

Lobsang Sangay

236

Penpa Tsering

11
Tezu

Result published on 22 March.

Lobsang Sangay

228

Penpa Tsering

70
Tuting

Result published on 23 March.

Lobsang Sangay

150

Penpa Tsering

51
Varanasi

Result published on 20 March.

Penpa Tsering

111

Lobsang Sangay

81